Aadhaar Card name correction/update facility is now available online through the UIDAI official website and mAadhaar application. Yes, you can now change or update your name on your Aadhaar card online.
Please note, you can update/change or correct your name in your Aadhaar Card twice in a lifetime.
You can update your name if the change is minor and includes Spell correction phonetically same, Sequence change, Short form to full form, and Name change after marriage.
So follow these steps and update your Aadhaar Name online:
Aadhaar Card Name Correction Online (Step by Step)
Step 1: Open UIDAI's official website and here you can see Update Aadhaar Section, click on "Update Demographics Data Online"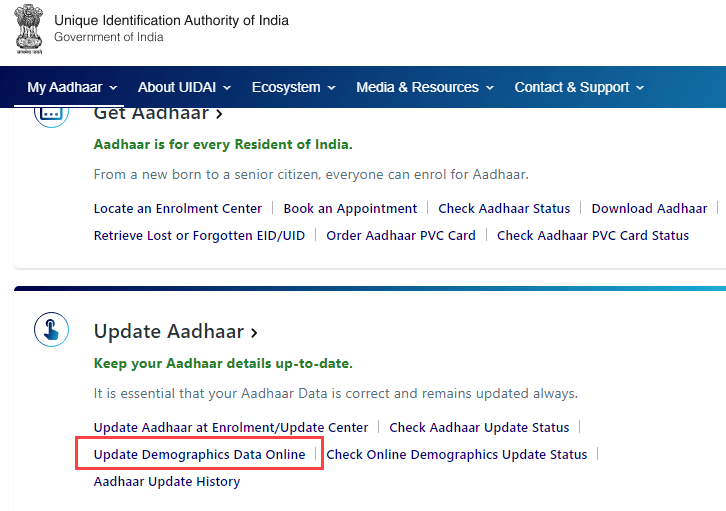 Step 2: Next screen, click on "Proceed to Update Aadhaar"
Step 3: And the next screen, you need to login using OTP. Enter your Aadhaar Card number and click on Send OTP. You will receive OTP on your Aadhaar registered mobile number. Enter OTP and click on login.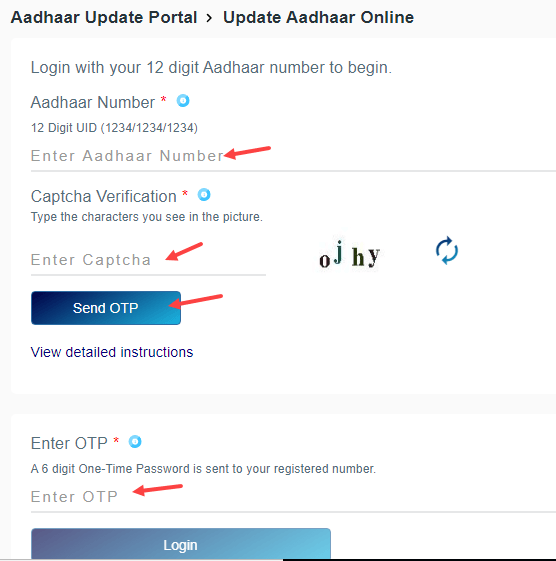 Step 4: After login using OTP, next screen click on "Update Demographics Data"
Step 5: And the next screen select "Name" from the Aadhaar data field to update.
Step 6: Next screen, enter your correct name, Upload a scanned copy of a valid Proof of identity document containing your name and photograph. Click on Preview.
Step 7: Now you can see the preview on the next screen. Enter the captcha code and click on Send OTP. Enter OTP received on your Aadhaar registered mobile number and click on Make Payment.
Step 8: Pay applicable charges (INR 50) and submit your online name update request.
Once you successfully complete the process of online name update, you get an 8 Digits number called URN (Update Request Number). This URN is also sent via SMS to your number. You can use this URN and Aadhaar Number to track the status of your name update/correction.
How To Track Aadhaar Card Name Change/Update Status
Visit the UIDAI website and click on "Check Online Demographics Update Status"
Next screen, enter your Aadhaar card number and URN number to track your status.
Frequently Asked Questions
(1) How to correct the name on my Aadhaar Card online?
Ans: Now you can correct/change or update your name in Aadhaar card online by visiting the UIDAI website. All you need to do, login using the Aadhaar card number and OTP, submit a Proof of identity document and pay applicable charges online.
(2) After updating my name, will I get a new Aadhaar Card copy?
Ans: After successfully updating/correcting your name in the Aadhaar card, you can download your Aadhaar card online or you can also order a PVC Aadhaar card.
(3) How to change my Aadhaar Card name after marriage?
Ans: You can submit an online request to change your name after marriage in Aadhaar Card. Please follow the above steps ad submit the name change request online.