ICICI PayLater account is a 45-day interest-free credit limit available for selected customers. If you are eligible for this PayLater account then you can activate your PayLater account online using mobile banking.
With an ICICI PayLater account, you will get up to a 20,000 credit limit and avail benefits of zero-interest credit for up to 45 days. You can use this credit limit amount for online payments and also transfer money to another bank account using UPI. You can also create a UPI ID for the ICICI PayLater account to make online payments using UPI.
So here we will tell you step by step, how to activate an ICICI PayLater account online. All you need to do, just follow these simple steps and your PayLater account will be ready.
ICICI PayLater Account Online Activation Process
Step 1: Open the ICICI Mobile Banking application and login. Now tap and open the "Accounts & Deposits" section.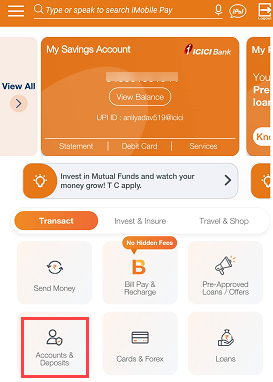 Step 2: In My Accounts, you can see the "PayLater Account" option, tap on this option. Now tap on the "Activate Now" button to activate the PayLater account.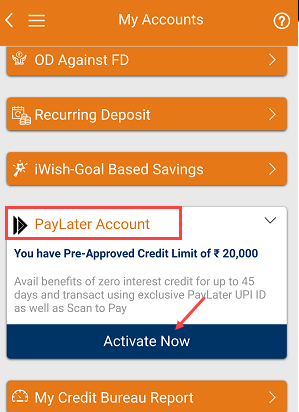 Step 3: Next screen accept the terms and conditions and submit.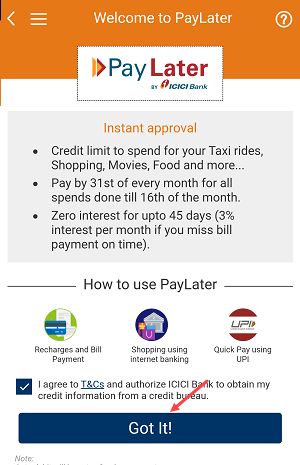 Step 4: In the next step, select your saving account number for auto-debit and submit.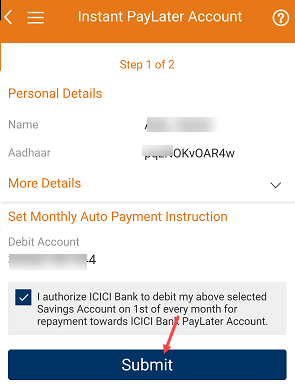 That's it your ICICI PayLater account has been activated now and is ready to use. Please read the details of the charges before you activate your PayLater account.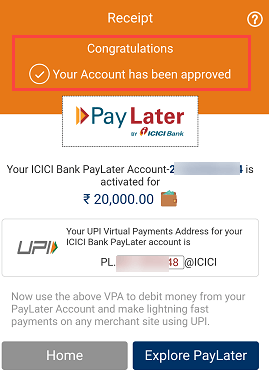 After activating your ICICI PayLater account, now you can make payments using UPI and net banking. You can also add your PayLater account to any UPI application and transfer money to other bank accounts.
Your ICICI pay later due amount will be automatically debited from your savings account so please make sure you have enough balance in your savings account. And yes, you can close your ICICI Pay later account anytime thru mobile banking.