If you want to activate your new Indian Bank Debit card then you can do this online, no need to visit the bank or ATM. You can now activate your Indian Bank new Debit card through Internet Banking.
After getting your new Indian Bank ATM/Debit card, you need to activate it first and then you can use it for ATM and online transactions. Without activation, you can not use your Debit card.
So if you have just applied for a new Debit card and received, then follow these steps and activate your Debit card.
Indian Bank Debit Card Activation Online
First, you need to login to your net banking account. Make sure your Internet Banking is active. Open Indian Bank net banking and login.
After login, click on Options — Debit Card Services — Card Activation. Now select your account number and enter the transaction password.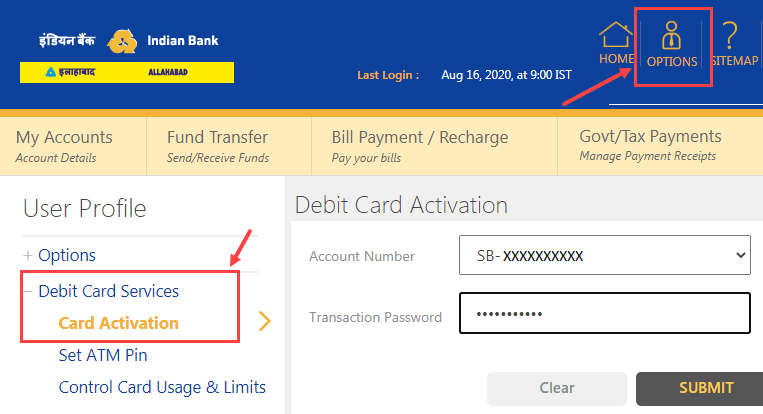 Next screen, select your Debit card number or enter your new Debit card number & activate your card.
After activating your new Debit card, you can also generate an ATM PIN for your Debit card and then you can use your card for ATM withdrawals and online transactions.
Frequently Asked Questions
(1) I have received my new Indian Bank ATM card, how to activate it?
Ans: You need to activate your new Debit card before using it for transactions. Debit card activation facility is now available online on net banking so if you have a net banking facility then you can activate your Debit card online. Please follow the above steps.
(2) After getting my new Indian Bank ATM/Debit card, I'm unable to use it, why?
Ans: Because you have not activated your ATM card. You need to complete the card activation process which you can do online by login to net banking.
(3) After activating my Indian Bank Debit card, how to get an ATM PIN?
Ans: You can generate an ATM PIN online by login to net banking and mobile banking. Please refer to the above-related (Read also) article.