Dear readers, Allahabad Bank is now Indian Bank officially so please refer to this article: How To Generate Indian Bank ATM PIN Online
Allahabad Bank customers can now generate ATM PIN online using online banking services like mobile banking and net banking. You don't need to visit your branch to request a physical ATM PIN.
If you forgot your current Allahabad Bank Debit card ATM PIN or you want to change your PIN then here are two online methods to set a new ATM PIN for your Allahabad Bank ATM Debit card.
You can generate ATM PIN online using these online channels anytime, so follow these two methods and get your ATM PIN instantly.
Generate Allahabad Bank ATM PIN online using Mobile Banking
Login to Allahabad Empower Mobile Banking application.
Here you need to click on More option where you can find Card Services – Debit Card PIN generation.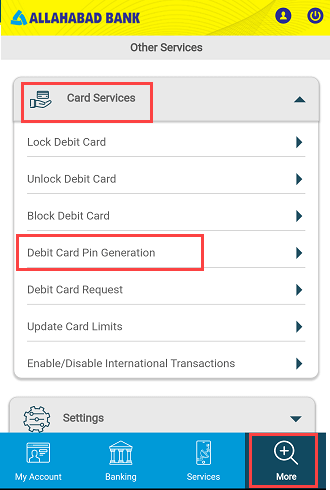 Next screen select your card and enter expiry month and year and enter new ATM PIN.
Allahabad Bank ATM PIN Generation online using Net banking
Open Allahabad Bank Internet Banking login page and log in to your account.
After successful login to net banking, click on ATM Services – ATM PIN Generation. Select your card number, enter expiry month & year and set new 4-digit ATM PIN and submit.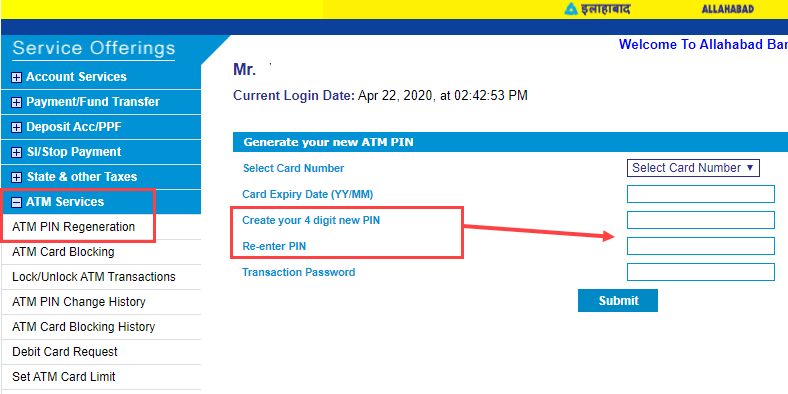 Generate Allahabad ATM PIN through ATM
Allahabad Bank Customers can generate ATM PIN of the Debit Card through the ATM machine.
Insert Card your ATM card and select Generate Green PIN – Generate OTP and Continue
Now Insert Card again Validate OTP, Enter six-digit OTP and
Validate
Enter New PIN->Re-enter New PIN
Frequently Asked Questions
(1) How can I get my Allahabad Bank ATM PIN online?
Ans: If your Mobile Banking or net banking is active then you don't need to request physical ATM PIN. You can generate your ATM PIN online by login to net banking and mobile banking. You can also visit the nearest Allahabad Bank ATM machine to get your new PIN.
(2) I forget my Allahabad Bank ATM PIN. How to reset online?
Ans: Please login to online banking channels like mobile banking or net banking where you can reset your Allahabad Debit card ATM PIN online.