After Flipkart PayLater, now Amazon India also has launched Amazon PayLater facility for customers. Now Amazon India customers can buy now and pay the amount on next month using Amazon PayLater facility.
After activating your Amazon PayLater account, you will get a monthly credit limit which you can use for shopping on Amazon India. You can also buy any products on EMI using Amazon PayLater.
Here we will tell you step by step, how to activate Amazon PayLater account, and more…
How to Activate Amazon PayLater Account?
You just need to enter your PAN Card number and Aadhaar card number to activate your PayLater account. You will receive OTP on your Aadhaar registered mobile number and after verifying your AAdhaar number using OTP, your PayLater account will be activated a ready to use. You will get up to INR 20,000 credit limit in your Amazon PayLater account based on your eligibility.
Step 1: Open the Amazon India application and open the Menu bar option and select Explore Amazon Pay option.
Step 2: You will see Amazon PayLater section here, click on Get Started.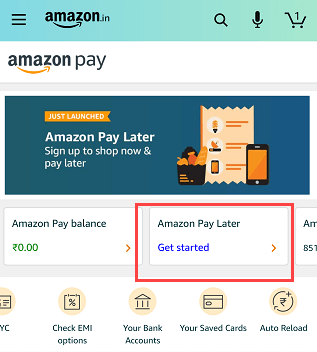 Step 3: Next screen, click on the Activate button and proceed further.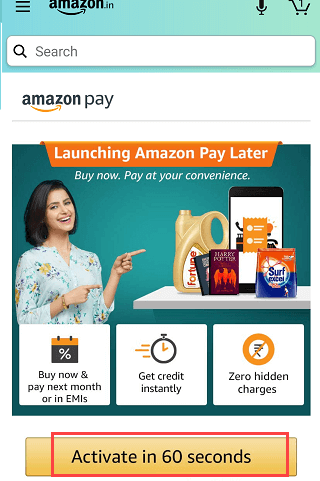 Step 4: Now select OTP Based option and enter your PAN card number and submit.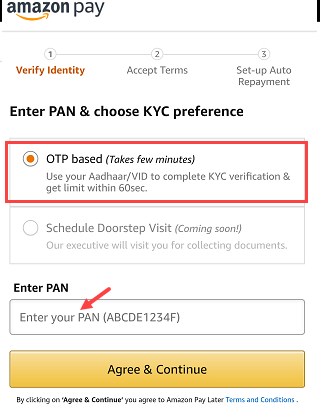 Step 5: Next screen, enter your Aadhaar card number and submit.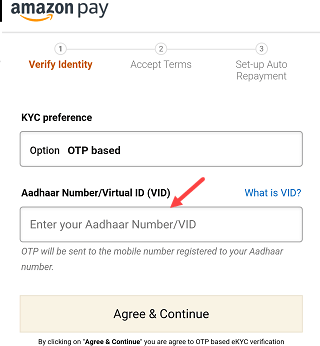 Step 6: Now you will receive an OTP on your Aadhaar registered mobile number, enter this OTP and submit.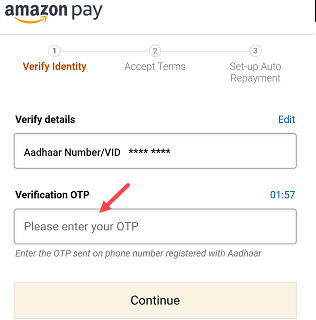 Step 7: After verifying your Aadhaar number, your Amazon PayLater will be activated and you will get your credit limit.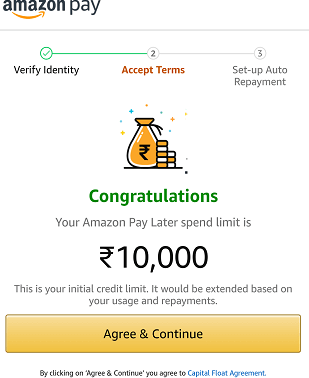 Step 8: You can also set AutoPay facility to pay your Amazon PayLater bills automatically from your bank account, else you can skip this option.
Congratulations, your Amazon PayLater account has been successfully activated and now you can buy on Amazon using Amazon PayLater money and pay the amount next month without any interest charges.
How to Shop using Amazon PayLater?
You can buy any product on Amazon under your credit limit through the Amazon PayLater account and pay this amount without any interest next month.
If your Amazon PayLater credit limit is INR 10,000 then you can but any product under INR 10,000.
To pay the amount using Amazon PayLater, just select the Amazon PayLater option on the payment page and complete your payment. The amount will be debited from your Amazon PayLater account and you need to pay this amount on next month (no interest charges apply)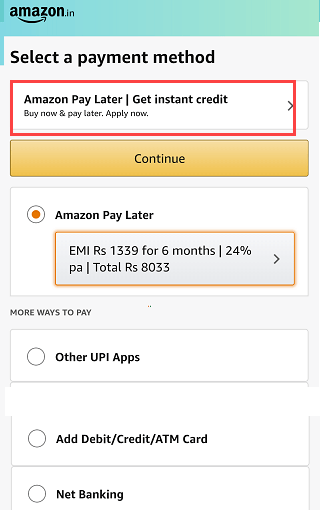 How to buy on EMI using Amazon PayLater?
Do you know, you can also buy on EMI from Amazon India using your Amazon PayLater account. Yes, now you can buy any product from Amazon India on EMI without credit card.
To buy products on EMI from Amazon using Amazon PayLater account, just select Amazon PayLater option on payment page & select EMI options like 3 months, 6 months, or 12 months.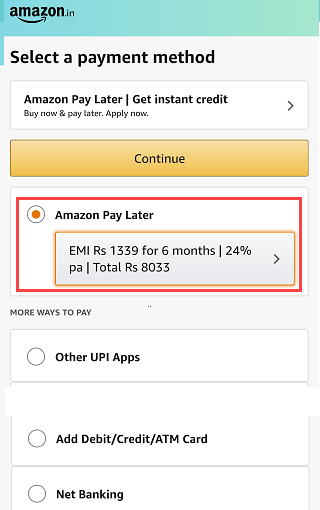 You can pay your EMI on Amazon application using net banking, credit/Debit card, UPI or you can set an autopay facility.