Central Bank of India mobile banking now lets you apply for a new ATM/Debit Card online without visiting the branch. If you are a Central Bank customer and want to apply for a new Debit card then you can directly submit your request for a new card online and receive it at your registered address.
For some reason, if you have blocked your current Debit Card or if you want to apply for a brand new Debit card then follow these steps and get your Central Bank of India Debit Card online.
How to Request Central Bank of India Debit Card Online
You can apply for Central Bank of India new ATM card through mobile banking so if you have an active mobile banking facility then follow these steps:
(1) Open Central Bank of India mobile banking application and login.
(2) After login, you can see the "Cards" option here, select and open the cards section.
(3) Next screen, tap on "Apply for new Debit Card" as you can see in the below image.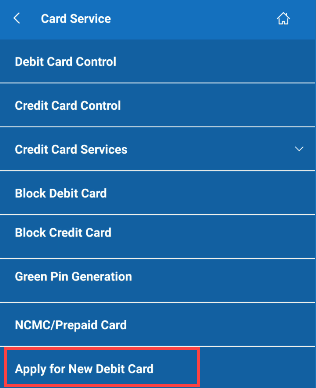 (4) And the next screen select your account number, If you want the same account holder name on your card then select yes, select your card type (you can select Rupay or VISA option), enter your transaction pin and submit your request.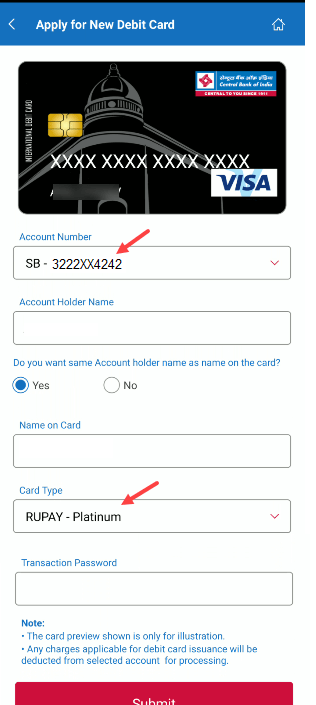 Done you have successfully applied for a new Debit Card. Any charges applicable for debit card issuance will be deducted from your savings account. Your new Debit Card will be delivered to your registered address. There is no tracking facility available but you will receive your debit card within 10 days depending on your location.
After getting your new Debit card, you can generate your ATM PIN online through mobile banking. You don't need to activate your Debit card, just generate your ATM pin using mobile banking and your new card will be ready to use.