If you have Yes Bank Internet banking facility, then you can easily avail the online banking service to apply for your new Yes Bank ATM Debit Card without visiting the branch. You just need your login Yes net banking account to apply for a new ATM Card online.
So, in case, if you have lost your Yes Bank ATM Card or it is stolen then you can easily replace your Yes Bank Debit Card and apply for the new ATM Card Online.
If your Yes Bank Debit card is stolen or misplaced, the first plan of action should be to block the card. After the card has been successfully blocked, the customer should request for the issuance of a new card.
How to Request Yes Bank Debit Card Online
Login to Yes Bank Internet Banking by entering User ID and login password.
After successful login, you can see the Request section, click and open Debit Card Request option.
Select your account number and choose New Card option. Now submit your request.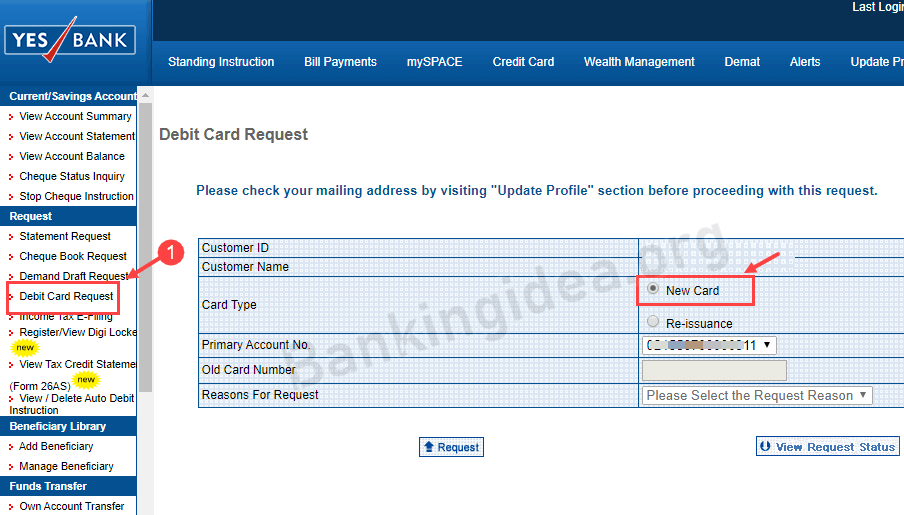 After a successful request, your new Debit card will be delivered to your registered address within 7 working days.
Debit card applicable charges will be debited from your saving/current account.
How to Re-issue Yes Bank Debit card
If your yes bank debit card lost or misplaced, you can also re-issue your Debit card online using net banking. After re-issuing your Debit card, your old Debit card will be blocked.
Login to net banking and click on Debit Card Request option. Select your account number and choose the "Re-issuance" option, select the reason for request and submit.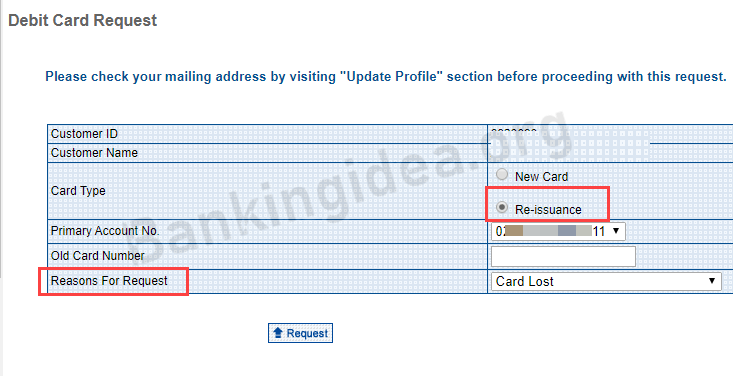 You can track your Debit card request staus by clicking on View Request Status.
FAQ
(1) How to get new Yes Bank Debit card Online?
Ans: You can get new yes bank debit card online. Please request for a new debit card through net banking.
(2) My Yes Bank Debit card blocked, how to get a new debit card?
Ans: If your current debit card has been blocked then you can apply for a new debit card online.
(3) I have lost my Yes Bank Debit card, what I do now?
Ans: First blocked your current Debit card and apply for a new ATM card by login to Internet banking.