Bank of India (BOI) customers can use the mPassbook facility to view transaction history online. You don't need to visit your bank to check your account transaction details through a physical passbook.
BOI mPassbook facility is a digital form of your passbook to view your account statement online. You can install BOI Mobile Banking and access mPassbook facility on your phone.
Normally, to check account transaction details you need to visit your home branch with a physical passbook and after printing your passbook you can view your account transaction details. But if you have Mobile Banking active on your phone then you can avoid this and check your passbook online from the phone.
How To Check BOI mPassbook
First, you need to activate BOI Mobile Banking on your phone. Install BOI Mobile Banking application from the play store and iOS store a complete one-time enrollment process. After activating Mobile Banking you can view your passbook on your phone.
Login to BOI Mobile Banking.
Now click on mPassbook section as you can see below the screenshot.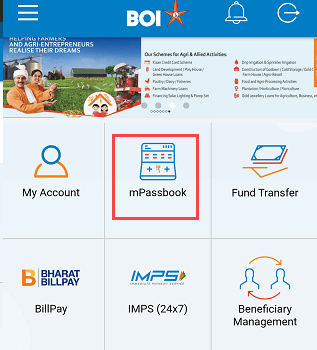 Next screen select your account number.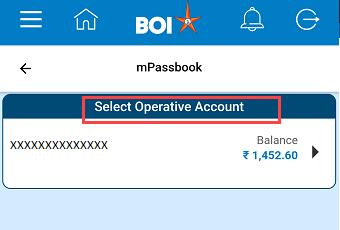 And here you can see your account transaction details. You can select the date range to view your statement OR select last month, last three months, last six months, and last one year option to view your statement. Just select the period of time and click get a statement.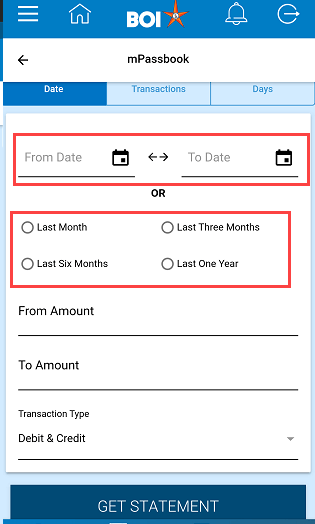 Next screen you can see your transaction details of the selected period of time.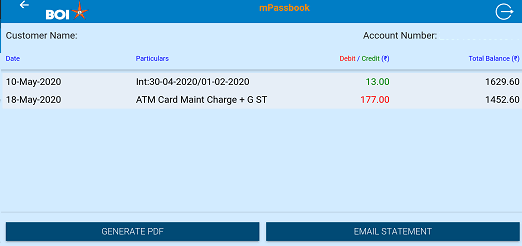 So this way BOI customers can view mPassbook and check account transaction activity online through mobile phone.
Frequently Asked Questions
(1) How to check Bank of India (BOI) last six-month statement?
Ans: You can view the last 6-month account transaction activity through BOI Mobile Banking mPassbook facility. Just login to Mobile Banking and open the mPassbook section.
(2) How to view my BOI account last one year statement?
Ans: If you are BOI customer and want to view your last one-year account statement then please login to BOI Mobile banking and open the Mpassbook option.
(3) What is BOI mPassbook and how to check online?
Ans: BOI mPassbook is a digital passbook facility to view your passbook online from your mobile phone. If you are unable to visit your bank for passbook printing then this facility will help you to check your account activity online.