Do you want to download your Canara Bank account statement (Passheet)? If yes, then here we will tell you different ways to get your account statement online instantly. You don't need to visit the bank to check your account transaction activity, just download the account statement online and check your account transaction history.
Canara Bank account statement (e-Passheet) can be downloaded from net banking, SMS banking, and by toll-free number.
Follow these online methods and get your Canara bank account statement immediately.
1. Download Canara Bank Account Statement through net banking
If you have Canara net banking then you can check and download the account statement online very easily. Internet banking facility is available without any charges and you can activate it online.
To view and download your account statement through net banking:
First login to Canara Internet banking.
After login to your Canara net banking, click on Accounts – Account Statement. Now select your account number, select the duration for a statement like six months, last month, and submit.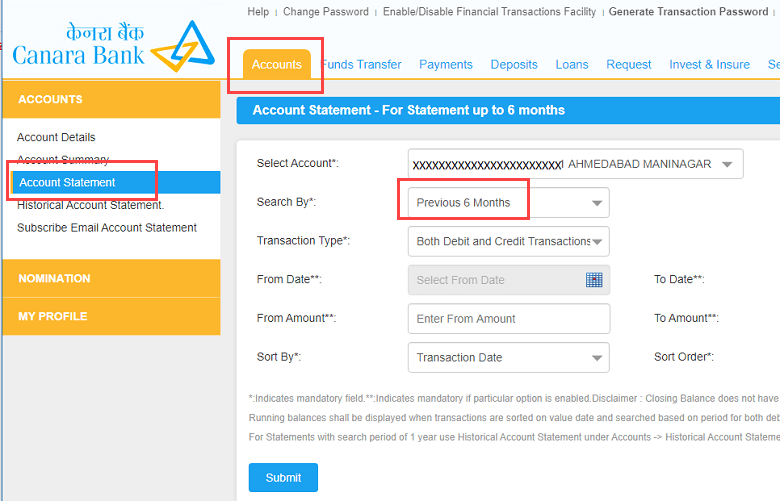 Next screen, you can view your account statement of the selected period. To download the account statement, please select the format like PDF, text, and excel and click on download.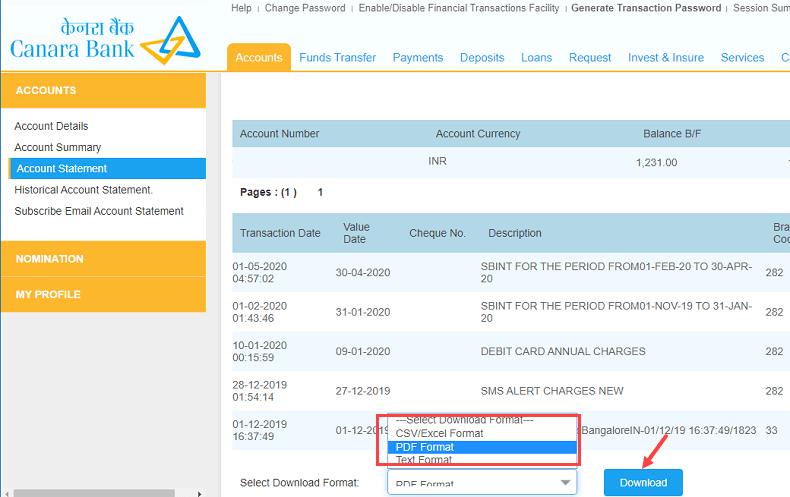 If you want to download a 1-year account statement of your Canara bank account then click on the HIstorical Account Statement. Select your account number and select a time period (maximum one year) and click submit.
Next screen select the format for a statement like PDF, Excel, and click on download.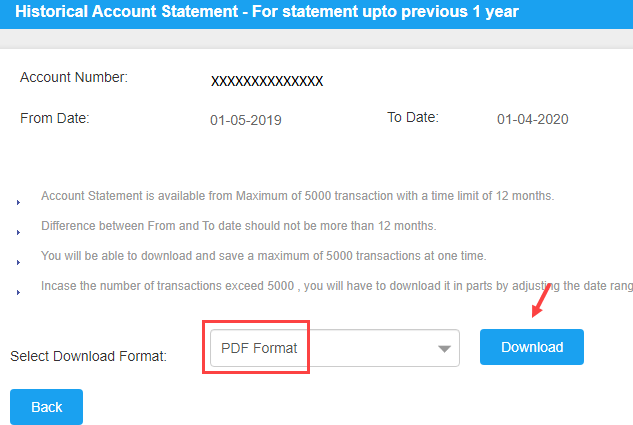 2. Get Canara Bank Account Statement (e- Passheet) on your registered email ID
If your email ID is registered with your bank account then you can request e-Passheet (statement) for your Canara bank account and get delivered to your email address.
You just need to dial the toll-free number from your registered mobile number to receive an account statement (Passheet) on your email ID.
Dial this toll-free number to get Passheet:

88826 78678
Frequently Asked Questions
(1) How to download my Canara account last six months statement in PDF?
Ans: You can log in to Canara Internet banking and download your account last 6 months statement in PDF format. Please follow the above steps.
(2) How to get 1 year Canara bank account statement?
Ans: To get one year Canara account statement, you can log in to Net Banking and click on Accounts – Historical account statement as mentioned above.