Canara Bank ATM PIN Generation Online facility is available through net banking so you don't need to visit your home branch to request a physical ATM PIN.
If you are a Canara Bank customer and want to Change Canara Bank ATM PIN Online then you just need a net banking facility that you can activate online. If you have already a net banking facility then you can easily change your ATM PIN online.
Here we will tell you step by step how to generate Canara Bank ATM PIN Online using Internet Banking.
Generate Canara Bank ATM PIN Online
Open Canara Bank Internet Banking login page and log in to your account by entering the User ID and login password.
Step 1: After successful login, click and open Cards section. Here you will find Instant PIN Generation option, click on this option. Select your Card number and enter the expiry date in MMYY format & submit (As you can see in the below screenshot)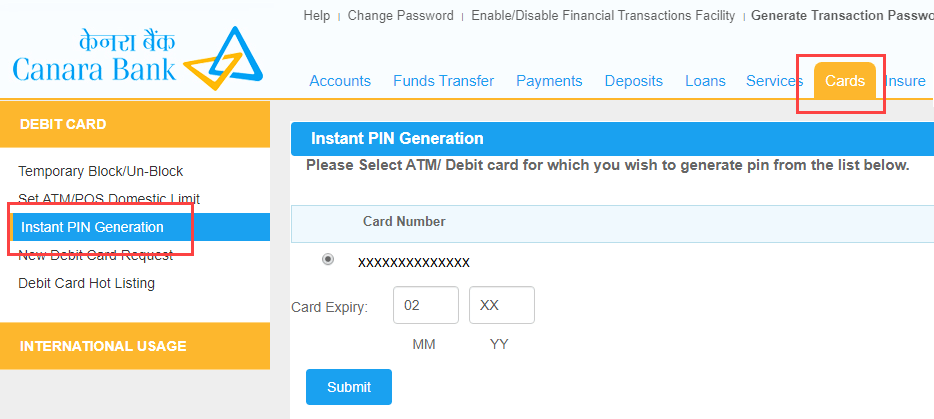 Step 2: Next screen you need to enter OTP which you will receive on your registered mobile number.
Step 3: And next screen you can set your new ATM PIN. Enter your new ATM PIN and click on Reset ATM Pin.
Congrats, you have successfully changed/generated ATM PIN for your Canara Bank ATM Debit Card. You can use your new ATM PIN at ATM for transactions.
Frequently Asked Questions
Q.1: Can I generate Canara Bank ATM PIN online?
Ans: Yes, of course, you can generate ATM PIN for your Cnara bank Debit card using net banking. If you have a net banking facility then you just need to follow the above simple steps to get a new PIN instantly.
Q.2: How can I change my ATM PIN online Canara Bank?
Ans: Canara Bank has launched an Instant ATM PIN generation online facility through net banking. Please login to net banking and change your PIN anytime.
Q.3: Frtot my Canara ATM PIN, how to recover?
Ans: If you forgot your current PIN then you can reset your pin online through Internet banking.