If you are Central Bank of India customers and want to receive account statement on your email address then here we will tell you step by step – how to register for email statement facility for CBI account online.
Central Bank of India e-statement facility enables you to receive an account statement every month on your registered email ID. Now you don't have to visit Bank to check your account statement on the passbook.
If you have active email ID then you can also subscribe for e-statement facility online for your CBI account, here we will tell you step by step process:
Email Statement for Central Bank of India account
Please visit your home branch and register your email ID first. After registering your email ID, now you can activate email statement through Cent Mobile Banking app.
Open Central Bank of India Mobile Banking app and log in.
After login, open Service Request option as you can see below screenshot.
Now select Request for Statement through Email option.
Next screen select your account number, select from date and select period for statement like monthly or yearly. If you select Monthly option then you will receive an account email statement every month. Finally submit your request.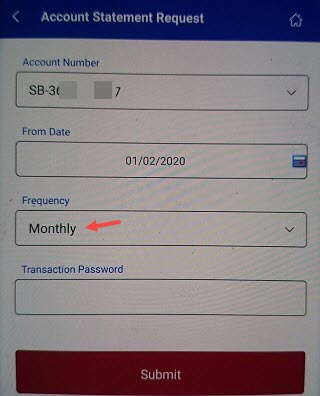 Ok done, you are now registered for e-statement facility and now you will receive account statement PDF file on the selected period of time.
The e-statement PDF file you receive will be password protected. To open the file you need to enter the password mentioned in the email.
Frequently Asked Questions
1) How to get the account email statement of my Central Bank of India account?
Ans: Just register for an email statement facility by registered your email address with Bank. You can activate monthly e-statement facility by following the above process.
2) What is CBI e-statement facility, how to register for it?
Ans: Central Bank of India e-statement facility lets you receive an account statement in PDF format on your registered email address.