Bank of India customers can now change their ATM/Debit card limits online and set a new limit for their Debit card. You can change ATM withdrawal, POS, online and international limits.
If you want to decrease your BOI Debit card ATM withdrawal limit then you can change it online through Mobile Banking and set a new limit for ATM transactions. Similarly, you can change the online and POS transactions limit for your card.
You can control your Debit card usage and set a new Debit card transaction per day limit. This will also secure your Debit card from unauthorized transactions.
How To Change BOI ATM Card Limit Online
Open and login to Bank of India Mobile Banking application. If you are not registered with BOI Mobile Banking, please activate it online.
After login, tap, and open the "Card Services" section.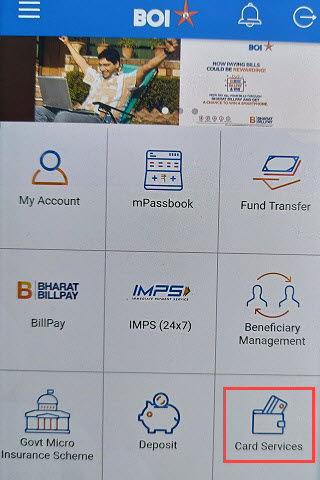 Next screen, click on "Debit Card Services".
Now select your account number and Debit card number and proceed further.
And now click on "Manage Debit Card Limit" option.
Next screen, you can change your ATM/Debit card per day limit for ATM withdrawal, POS, and international transactions limit. You can increase/decrease your Bank of India Debit card limit for any channel.
Frequently Asked Questions
(1) How to change my Bank of India ATM Cash Withdrawal per day limit?
Ans: If you want to set a new ATM withdrawal per day limit for your BOI Debit card then you can do this online through Mobile Banking. All you need to do is just login to Mobile Banking and open the Debit Card services section where you need to open the Manage Debit Card limit section.
(2) What is the Bank of India Manage Debit Card limit facility?
Ans: With the Bank of India Manage Debit Card limit facility, now you can control your Debit transaction limit online and change your Debit card limit for ATM cash withdrawal, POS, and online transactions. This facility is now available on mobile banking.