Allahabad Bank is now Indian Bank officially so, please visit your nearest branch to update your number.
Allahabad Bank Mobile Banking facility now lets you change your registered mobile number online without visiting the branch. Normally, to change the mobile number you need to visit the bank and submit updation form. But now Allahabad Bank customers can update their mobile number online instantly through the mobile banking app.
If your current mobile number which is linked with your Allahabad Bank account has been lost or inactive and you want to link your new mobile number with your bank account then follow the below steps and change your number instantly.
Change Online Allahabad Bank Registered Mobile Number
Login to Allahabad bank Mobile banking application (emPower).
After login, tap and open My Profile (Click on User icon as you can see below screenshot).
Now here you can see your current registered mobile number. Tap on the Edit button to update your mobile number.
And finally, enter your new Mobile number, select your Debit card and enter Debit card ATM PIN. Now submit your request.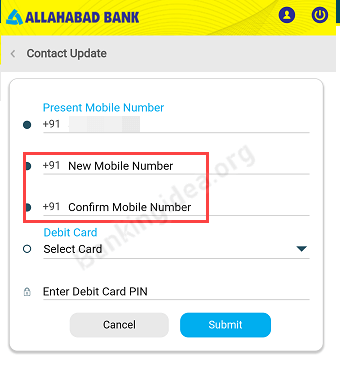 That's it your mobile number will be updated within 24 hours.
After changing your mobile number, you need to register again for the Mobile Banking app.
FAQ
(1) Is there any Online way to change my Allahabad Bank account Mobile Number?
Ans: Yes, you can update your mobile number in Allahabad Bank online using the Mobile Banking app. Just login to Mobile Banking app and follow the above steps. Your new mobile number will be linked with your bank account within  24 hours after the request.
(2) Do I need to visit Bank to change my Allahabad Bank Mobile number?
Ans: No, you don't need to visit the Bank to change your Allahabad Bank account registered mobile number. You can change your number through Mobile Banking.
(3) How to know my Mobile number has been changed?
Ans: You can register again for mobile Banking using a new mobile number, you will receive an OTP on your new number which means your number has been changed successfully. You will also receive a bank alert about this change.
(4) How to register a new Mobile Number in Allahabad Bank?
Ans: If your Allahabad Mobile Banking is active then please login to Mobile Banking and register your new mobile number by following the above steps.