If you are a Bank of Baroda customer and want to know whether your Aadhaar card number is linked to your bank account or not then you can check it online through net banking. If you have already submitted your Aadhaar copy for linking then you can check your status online.
As you know it is mandatory to link your bank account with an Aadhaar card. If you have opened your account using an Aadhaar card then you don't need to do anything and your Aadhaar is already submitted to the bank. However, if you have used your other ID and address proof to open an account then you need to submit your Aadhaar card to link with your account.
So follow these steps and check your Bank of Baroda and Aadhaar card linking status.
Check your Aaadhar card is link with Bank of Baroda account or not
Step 1: First you need to login to your net banking account. Visit (https://www.bankofbaroda.in/) and login to your account by entering your user ID and login password.
Step 2: After login, click on the Services — Other Services — Check Aadhaar Status as you can see in the below screenshot image.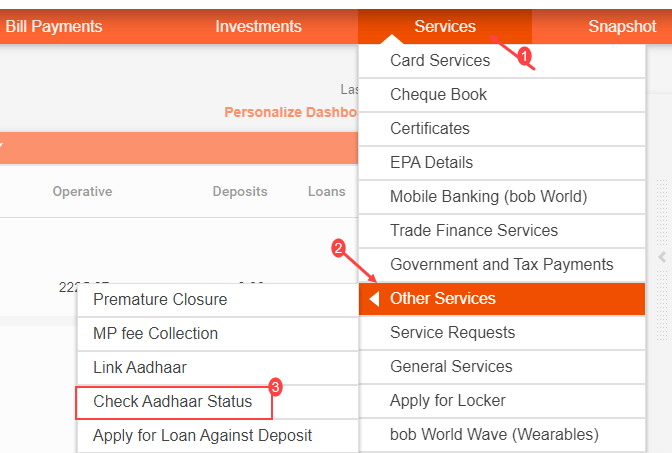 Step 3: Next screen select your account number and click on the continue button.

Step 4: And the next page you can see your Aadhaar card link status. If your Aadhaar card is linked with your BOB account then you will see "Aadhaar is already Linked"  message on the page.
If your Aadhaar card is not linked to your bank account then you can login to net banking and link your Aadhaar with your BOB account online. It is a completely digital process and you don't need to submit any physical documents.
BTW you can also login to Bank of Baroda mobile banking and check Aadhaar and Pan card linked with your account or not.