If you have your pension account in SBI and want to check your life certificate status (whether submitted or rejected) then here we will tell you two online methods to confirm whether your life certificate is accepted or rejected.
As you know, you can submit your pension life certificate online and offline. You can submit your life certificate in SBI thru video call too. If you have already submitted your life certificate (Jeevan Pramaan) then follow these two methods to check your status.
Check your SBI Life Certificate Status Online through SBI Pension seva
You can create your pension Seva account in the SBI pension Seva portal and access your pension account-related services. If you are already registered with SBI Pension Seva then follow these steps and check your life certificate status:
Step 1: Login to your SBI Pension Seva Account using your user Id and login password by visiting https://www.pensionseva.sbi/
Step 2: After successfully login, click on the "Certificate Details" option, select your PPO number, and click on the view button as you can see in the below screenshot.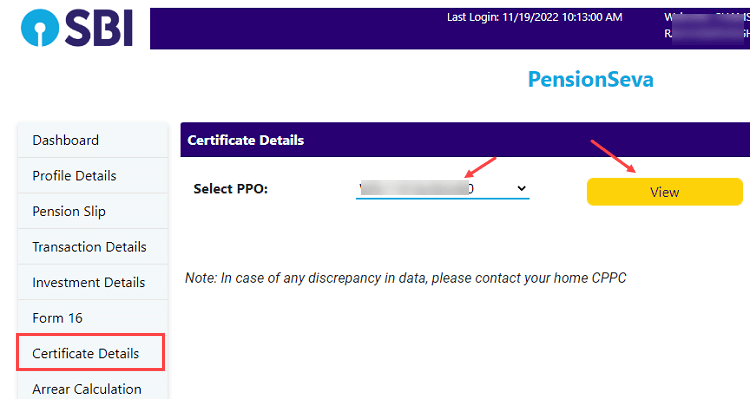 Step 3: And the next screen you can view your certificate status (Active), mode of submission, authorized date, valid from, and valid up to date.

Check your Life Certificate Status in SBI through Pension Slip
You can also view your life certificate status in SBI through the pension slip. You just need to login to your SBI net banking account.
Step 1: After login to your net banking account, click on the "e-Services – Pension Slip
Step 2: Select November month and year of submission.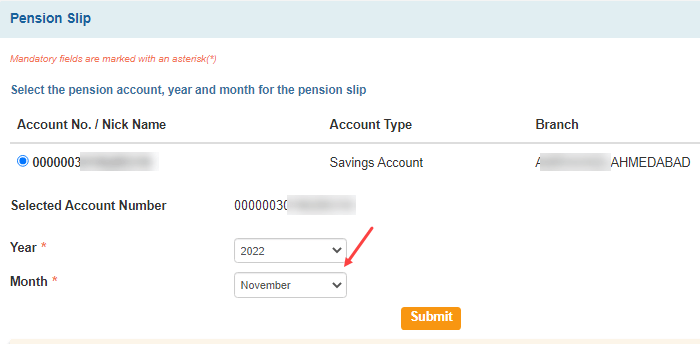 Step 3: Next screen you can see your pension slip. You can check here "Life Certificate Submitted Date" & "Next Life Certificate Due Date" (If your due date is next year then your life certificate is submitted successfully and active)

If your email ID is registered with your pension account then you will receive your pension slip in your mailbox.
When you submit your life certificate in SBI, within 7 days you will receive an SMS on your registered mobile number that your life certificate is successfully accepted by the bank.