In this post, we will guide you – How to close the ICICI Pay Later account online. many users asked me to tell about the closing process of the ICICI pay later account so here we will tell you how to deactivate ICICI pay later account.
PayLater by ICICI Bank (PayLater) you can get 30-day interest-free digital credit with just a click. Now pay your bills, shop online, and pay to any merchant UPI ID easily and instantly. PayLater is a digital credit product, similar to a Credit Card. With it you can make your purchases today and make payments within 45 days of the transaction date and no interest is charged.
PayLater is available as a payment option at ICICI Bank payment gateway for making online purchases, in addition to the standard options like a credit card, debit card, and Pockets Wallet. For making a payment, simply choose your PayLater Account on the checkout page.
How to Close ICICI pay later account
You can close your Pay later (ICICI) account online through the iMobile Banking application. You don't need to contact your branch.
Before your closing request, please remember your Request for Pay later closure can not be accepted if any outstanding due amount. Before closing your account, please clear your all outstanding dues.
1# login to ICICI iMobile Banking app and tap on Pay Later tab.
2# Now tap on More options > Request for Account closure
3# Finally select the reason for the closure and submit your request. That's it. Your account closure request will be processed within 1 working day.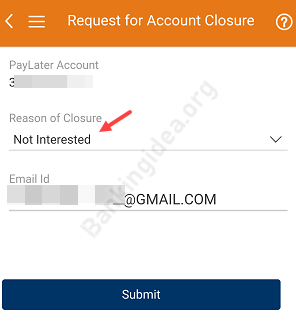 So this is the simple procedure to close ICICI pay later account online if you don't wish to use ICICI pay later simply close it from the mobile banking app. Before closing the request please pay your all dues, else your request can not be accepted.