FreeCharge full KYC is now mandatory for all users and if you are an Axis Bank customer then you can complete your FreeCharge wallet full KYC online in just a few seconds. FreeCharge wallet is owned by Axis Bank so if you have Axis Bank saving account then you can complete your wallet full KYC too.
After completing FreeCharge full KYC you will be able to send wallet money to any Bank account and also you can add money to your FreeCharge wallet. Other FreeCharge users who don't have an Axis bank account can not complete full KYC right now.
If you are holding an Axis bank saving account and want to complete full KYC for your FreeCharge wallet then here we will guide you on this step by step.
Complete FreeCharge Full KYC online (For Axis Bank Customers)
You just need to submit your Pan card number to complete your full KYC. As you already submitted your KYC documents during saving account opening, you don't need to submit any physical documents.
Before you start, let me tell you one thing, your FreeCharge wallet and Axis Bank account registered mobile number should be the same.
Open FreeCharge wallet and go to the Account tab. Here you can see KYC Details (Eligible for upgrade), tap on it.
Next screen click on the complete full KYC option.
Now enter your Pan card number and proceed.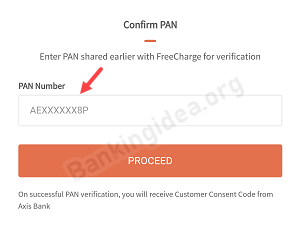 Next screen you need to enter the consent code sent on your registered mobile number.
After entering the consent code, your full KYC will be completed.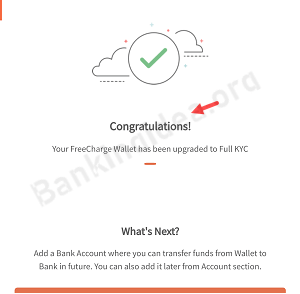 Now you are ready to load money into your FreeCharge wallet and also you can transfer wallet money to any Bank account. You can load up to 10,000 every day in your wallet.  Currently FreeCharge Full KYC is available only for Axis Bank account holders, we will keep you updated when it will be available for non-axis bank customers too.