Payzapp KYC is now mandatory for all users, so if you are using Payzapp wallet and not completed full KYC then you can not use Payzapp wallet feature like fund transfer to the bank account, add money and receive offers.
Currently Payzapp full KYC available only for HDFC Bank account holders. So if you are an HDFC bank customer and using Payzapp wallet then you can also complete your KYC online in just 1 minute.
HDFC Bank customers just need to link his/her bank account with the Payzapp wallet to complete KYC. Currently this feature not available for non-hdfc bank customers.
Ok so here we will guide you, how to complete Payzapp full KYC and activate wallet again.
PayZapp Full KYC online – How To Complete
First, open Payzapp wallet and go to Settings.
Here you can find view/update KYC option, just open it.
Next screen tap on the Complete KYC option.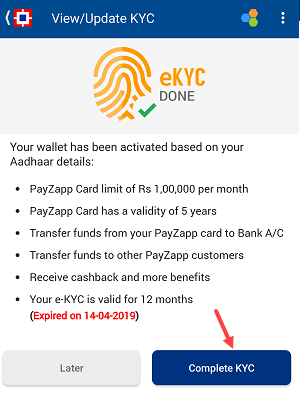 Now you will be asked "are you HDFC bank customer, tap on yes.
Finally enter your HDFC bank account customer ID which you can find on passbook, e-statement or through mobile banking/net baking.
After enring your customer ID, your KYC will be completed.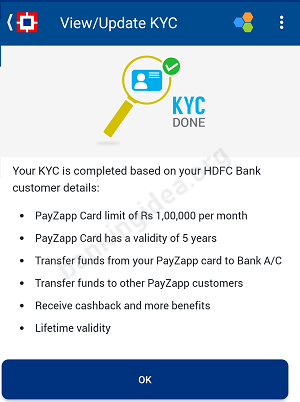 payz
After completing your Payzapp waller full KYC, now you can use your Payzapp waller without any limits.
Your wallet limit will be increased up to 1,00,000 per month, so you can add money 1 lac per month.
You can transfer money from your wallet to any bank account.
Your Payzapp card validity now for 5 years.
Payzapp wallet validity now lifetime and you son;t need to complete KYC again.
Cashback offers now available for you
You can also transfer money to other payzapp users
So this is how HDFC Bank customers can complete full KYC for the Payzapp wallet and get full benefits of wallet without any limitation. If you are a non-HDFC bank customer and unable to complete your KYC then contact Payzapp customer care.