Google Pay now lets you create your own custom amount QR code which means if you want to receive ₹ 5000 from the sender then you can create ₹5000 QR code and share it with the sender. When the sender scans this QR code, this amount will be entered automatically and he can pay the amount. Also, the sender can't change the amount.
This custom QR code will be reset once you close the Google Pay application and you can see your default normal QR code again.
Once you create the custom QR code, you can save this QR code in your phone gallery as an image and share it with anyone to receive the amount set by you for the QR code. The QR code will remain active as long as the bank account is linked to Google Pay.
So let's create a custom amount QR code on Google Pay.
Create a Custom Amount QR Code on Gpay
Step 1: Open the Google Pay (Gpay) app and go to profile section.
Step 2: Once you enter on Profile section, you can see the "Your QR Code" option there, just select this option to view your default QR code.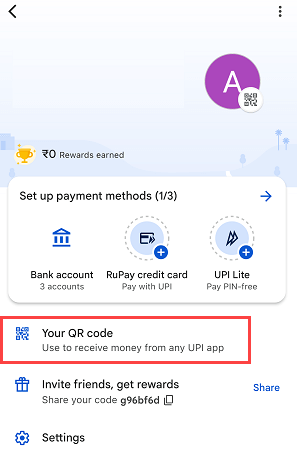 Step 3: Next screen you can see your normal QR code. To create a custom QR code just tap on the three dots on the top as you can see below image.
Step 4: Now tap on the "Set Amount" option to enter your custom amount.
Step 5: Here I'm going to create a Rs.10 custom QR code so I will enter 10 and tap on OK.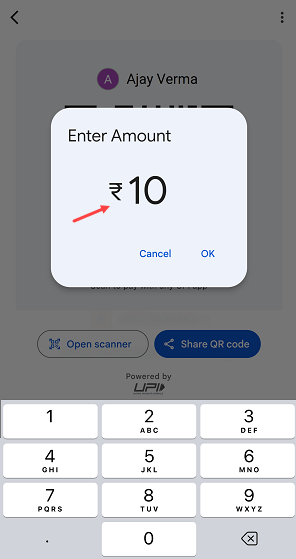 Step 6: All done! My custom Rs.10 QR code has been generated successfully. You can see Rs.10 mentioned in the QR code. Now you can share this QR code with the sender OR save this in your phone to receive the money (which you set for QR code) in future.
Step 7: The sender can scan the QR code directly from your Phone OR you can share it with WhatsApp to receive the money set by you for QR code.
Step 8: To receive a payment, simply share your custom QR code with the sender. The sender can scan the code using any UPI application, and the amount you've specified for the code will be automatically reflected in the payment column. The sender won't be able to change the amount, so you can be sure that you'll receive the correct payment.
Hope you now understand what is set amount for the QR code in Google Pay is used for. You can create multiple custom QR codes on Google Pay and share them with senders to receive payments.