Do you want to disable buy or sell shares in your Zerodha account? If yes then you can use the Zerodha Kill Switch feature to stop equity trading for your Zerodha account. When you disable equity buy and sell using Zerodha kill switch feature, you can not buy any shares from NSE/BSE and can not sell your holdings shares. You need to enable the buy/sell option again to sell or buy shares.
Here we will tell you how to use Zerodha kill switch feature and stop different segments like equity (BSE/NSE) and future and options.
How to use Zerodha Kill Switch Feature to Stop trading
You just login to your Zerodha kite mobile application to use the kill switch feature, please follow the below steps:
(1) Open and login to the Zerodha Kite application and tap on the "Profile" section.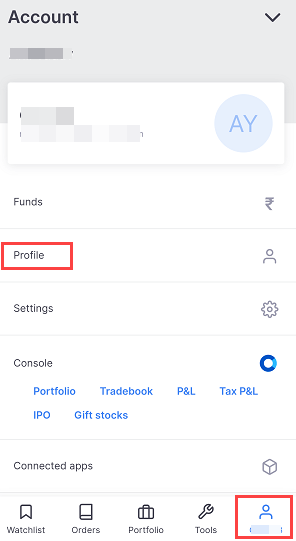 (2) On the next screen, tap on the "Manage Account" option.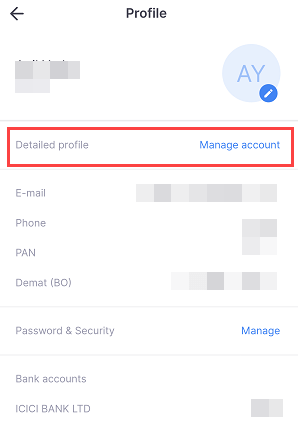 (3) You will be redirected to the console in my account section. Open the "Segments" section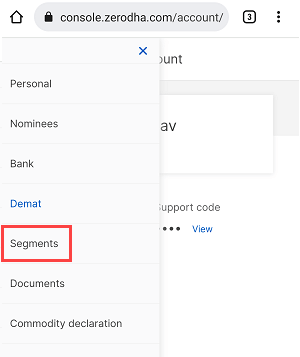 (4) In the segments, you can see the Kill Switch Manage segments section, you need to turn OFF (disable) "NSE – Equity" and "BSE – Equity" options and hit the continue button. You can also enable/disable future and options trading also.
Done! now shares buy and sell (NSE/BSE) have been disabled for your account and nobody can buy new shares or sell your portfolio holdings. Once a segment is deactivated, it can not be activated for the next 12 hours. So this way Zerodha users can stop buying or selling shares using the kill switch feature.
If you want to sell or buy new shares, then just open segments and turn ON Equity (BSE/NSE) options. In the same way, you can enable/disable future and options trading. You can secure your holdings from unauthorized selling or buying using Zerodha kill switch option.