Do you want to download your Bank of Baroda account statement through net banking? If you have a BOB internet banking facility then you can download your account statement file in XML, PDF, and text format.
Bank of Baroda's net banking facility lets you generate your account statement file very easily and you don't need to enter any password to open the statement file.
In this article, we will tell you step by step, how to download an account statement thru Bank of Baroda net banking.
Download the Account Statement using the Bank of Baroda Net Banking
Step 1: Visit the Bank of Baroda net banking login page (https://feba.bobibanking.com/default.htm) and select the "Retail User" option and enter your user ID and login password and login to your net banking account.
Step 2: After successful login, click on the "Accounts" tab and select the "Operative Accounts" option from the menu list as you can view in the below screenshot.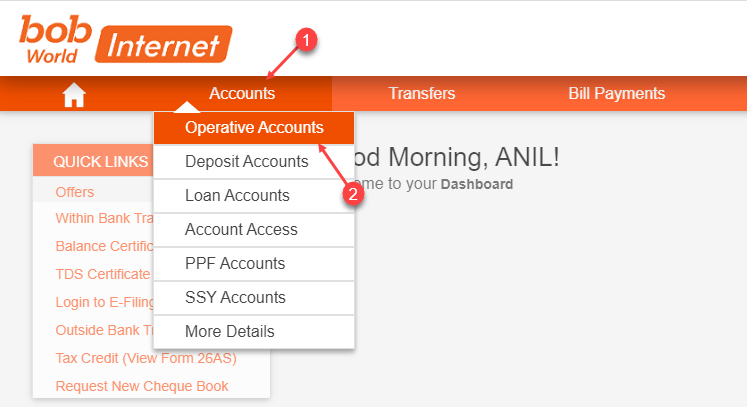 Step 3: In the My operative accounts you can see your account details. Click on the three-dot (⋮) button and then click on the "Generate Account Statement" option.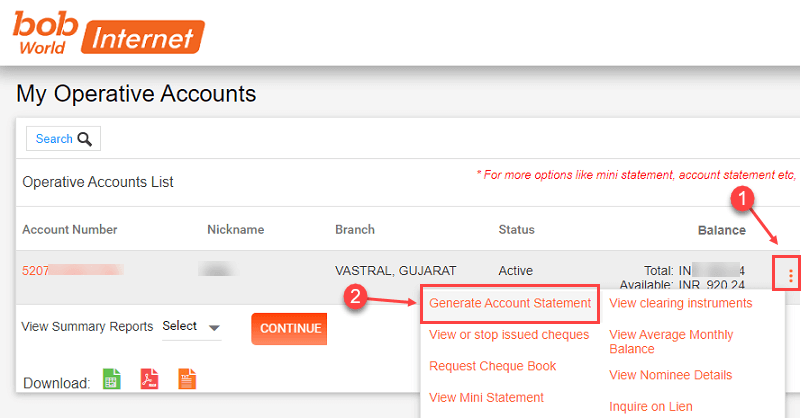 Step 4: And on the next screen you can view your account statement. To download the statement file, click on the Download icon below. You can download the account statement file in XML, PDF, and text format. After clicking on the selected format icon download button, your statement file will be saved in your local storage and you can open the file without any password.
So this way you can get your Bank of Baroda statement file through net banking. You can also subscribe email statement facility by registering your email ID with your bank account and receive your statement every month in your email inbox. You can also use Mobile Banking to get your account statement and check your mini statement.