Do you want to download your Indian Bank account statement? If yes then here we will tell you two instant online ways to get your Indian Bank account statement. You can save your account statement in PDF, DOC, Text, and other formats.
You don't need to print your passbook to know your account activity. Just download your statement online and check your account transaction history from your mobile phone. Indian Bank also offers a mPassbook facility to view your account transaction details. You can also register your email ID and activate email statement for your account.
If you wish to download your Indian bank account statement instantly then follow these two methods.
Download Indian Bank Account Statement Online Through Mobile Banking
(1) Open Indian Bank Mobile Banking and proceed to login. After login, you can see the "Accounts" section, click and open it.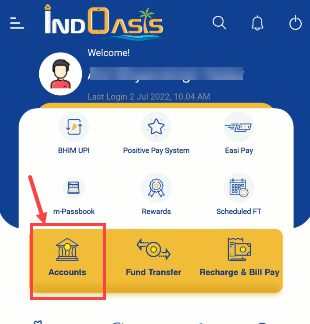 (2) In the Accounts section, tap on the "Statement" option as you can see below image.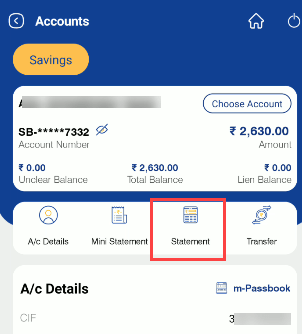 (3) And the next screen, you can download your account statement. Just select the date range or you can select the last month, 3 months, 6 months, and year option to download your statement.
After downloading the statement, you can open the account statement PDF file by enring your account number.
Download Indian Bank Account Statement through Net Banking
Login to the Indian Bank Internet Banking account.
After successfully login, click on My Accounts — Statement of Accounts. Select your account number, select date range, select format for a statement like PDF, XLS, DOC, etc, select instant option, and click on the download button.
Frequently Asked Questions
(1) How to download Indian Bank 6 months statement?
Ans: To download the Indian bank six months account statement, you can login to Mobile Banking and select the 6 months option in the account statement section. Please follow the above steps.
(2) Can I download my Indian bank 1-year account statement?
Ans: Yes, you can download a year account statement of your Indian bank account. Please follow the above two methods. Select one-year date range or select a 1-year option in Mobile banking to download statement.