Bank of Baroda customers can now activate/deactivate online transactions for their ATM/Debit card through mobile banking. When you enable your ATM card for online transactions (eCommerce), you can use your Debit card for online payments like shopping, paying bills, etc.
If you have never used your BOB Debit card for online transactions (eCommerce) then your debit card will be temporarily disabled for online payments and you can not make any online payments. However, you can reactivate online transactions for your Debit card through mobile banking.
You can enable/disable online transactions for your Bank of Baroda Debit card anytime by login to mobile banking. This feature will protect your card from online unauthorized transactions and fraud. You can disable online usage for your BOB debit card temporarily and whenever you want to use your card online then you can enable it.
So if you are using your BOB ATM Debit card online frequently and worry about online fraud then you can use this enable/disable online transaction feature.
Activate/Deactivate Online Transactions for Bank of Baroda ATM/Debit Card
Log in to Bank of Baroda Mobile Banking and open the "cards" section. Next, tap and open Manage Debit Card.
Now click on the Manage Channel option.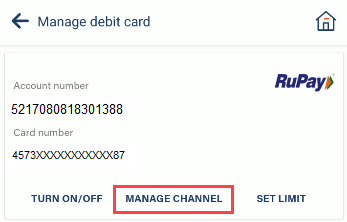 And here you can enable/disable "Online (eCommerce)" transactions for both domestic and international usage. (As you can see in the below screenshot)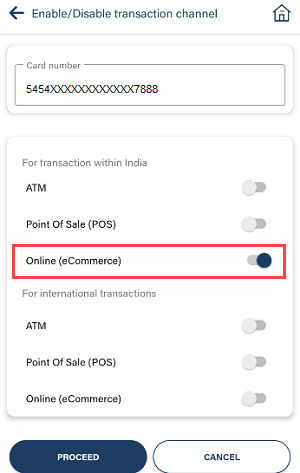 So this way, Bank of Baroda customers can activate/deactivate online usage for the Debit card.
How to use Bank of Baroda ATM/Debit Card for online payment (transaction)
After activating your BOB card for online usage, now you can pay online for shopping, billing, etc through your ATM/Debit card.
Just proceed to the payment page and select the Debit Card option on the payment page.
You need to enter your Debit card's 16-digit number, expiry date, and CVV and submit it.
After submitting your card details, you will receive an OTP on your bank registered mobile number, enter this OTP, and complete your transaction. That's it your payment will be successful and the amount will be debited from your bank account.