Do you know your SBI Account CIF number? If not, then here we will tell you 3 ways to find your CIF online.
What is SBI CIF Number?
A customer information file (CIF)  computerized file that stores all information about a bank customer's personal and account information.
This number is of vital importance to the bank because it allows the bank to view the accounts of the customer, including key information such as account ownership and credit relationships.
So here is the step-by-step guide on how to know your SBI Account CIF number online.
How To Find SBI Account CIF Number Online
You can use net banking and mobile Banking facility to view your account customer information file number. See how:-
1# Through Mobile Banking
SBI YONO lite Mobile banking facility allows you to manage your account online on your phone. You can activate SBI mobile banking online.
See how you can find your CIF number on SBI Anywhere Mobile Banking:
1: Login to SBI YONO Lite App.
2: After login, tap on Services as you can see below screenshot.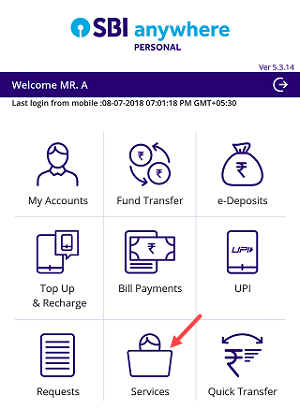 3: Next screen, tap on Online Nomination option.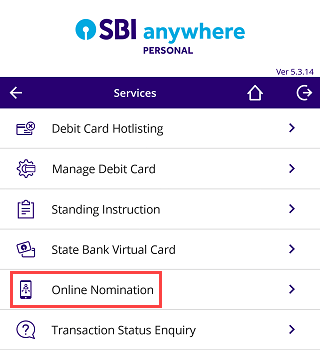 4: Now select Transaction Account in Account type, select your Account number. Now you can see your CIF number in CIF No: column.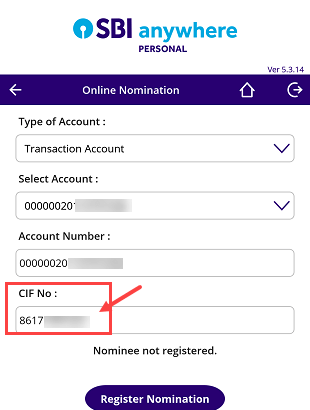 2# Through Net Banking
You can also check your sbi account cif number on net banking account.
1: Login to SBI net banking, visit: https://retail.onlinesbi.com/retail/login.htm
2: After login, in Account Summary click on View Nomination and PAN Details.
3: On the next screen you can see your CIF number.
3# On Passbook
SBI customers can also view CIF number on passbook front page where your account details are printed.
See below image: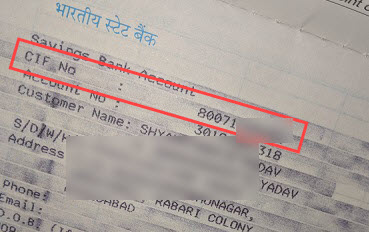 So by following these 3 methods, SBI customers can find saving account CIF number online.