Syndicate Bank is now Canara Bank and your syndicate Bank account migrated to Canara Bank. So now you are a Canara Bank customer. Please refer to this article to know how to generate ATM PIN online: Canara Bank ATM PIN generation online
Are you a Syndicate Bank customer and want to generate ATM PIN for your Debit card online? Ok so now you can generate ATM PIN online using SyndMobile banking application which available for Android and Apple store.
Syndicate Bank customers can install Synd Mobile Banking application and complete the activation process. In this application, Debit card PIN generate facility available so you don't need to visit the bank to change/generate your ATM PIN.
Previously you need to visit your home branch to change or generate ATM PIN. But now you can do that online instantly.
Here we will guide you on how to generate ATM PIN online for Syndicate Bank ATM/Debit card.
Syndicate Bank Debit Card PIN Generation online
If you forgot your Syndicate Bank ATM PIN or want to change your PIN online then follow the below steps.
First login to Synd Mobile Banking application by entring login password.
After login, click and open the Card Settings option located on the bottom side.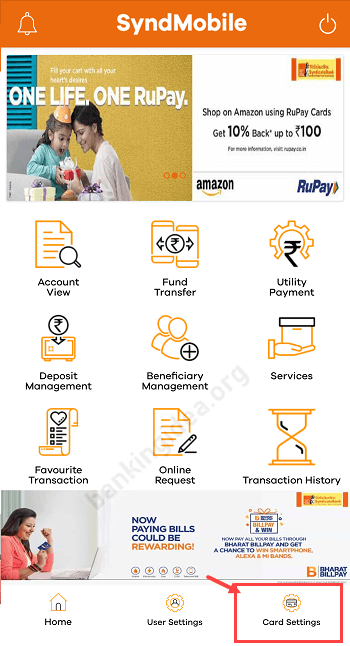 In Card settings tap and open RESET PIN option.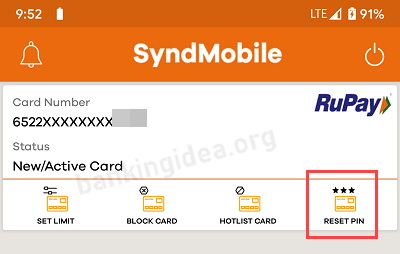 Now enter your new ATM PIN and your card expiry date. for validation.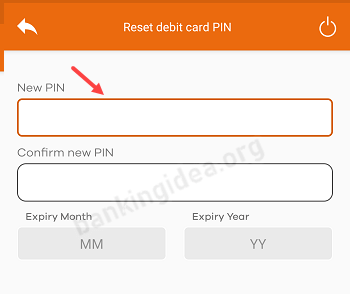 You will receive OTP on your bank registered mobile number. Enter OTP and complete the process.
Ok done, you have successfully generate new ATM PIN for your Syndicate Bank ATM card. Now you can use your new ATM PIN at any ATM for transactions.
Frequently Asked Questions
Q.1: Using this option can I reset my ATM PIN online?
Ans: Yes you can reset your Syndicate Bank ATM PIN online.
Q.2: I forgot my ATM PIN, Can I generate a new PIN for my Syndicate Debit card?
Ans: Yes, you can generate a new ATM Pin by following the above process.
Q.3: How to activate Syndicate Mobile Banking to generate ATM PIN?
Ans: You can install Synd mobile banking from the Play store and apple store and complete one time activation process. For more details read this
Syndicate Bank ATM PIN generation online facility available for all retail customers, you don't need to visit bank now.