If you want to use your Canara Bank ATM/Debit card for International transactions then first you need to activate International usage for your ATM card. You can enable this feature by login to net banking and mobile banking.
Canara Bank selected ATM/Debit card working well for International payments. If you have an International ATM card then you can also enable International usage for your card and make payments and withdraw money from ATM globally.
Here is how you can Activate International payments for your Canara bank ATM Debit card.
Activate Canara Bank ATM Card International Transactions Through Mobile Banking
Open the Canara Mobile Banking application and login.
Now tap on the Cards section.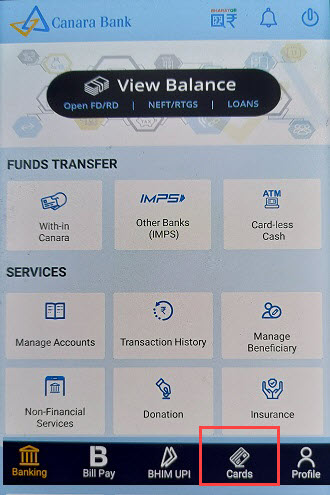 Now turn ON International usage for your card. If you want to use your card for online international payment then turn ON ONLINE (ECOM) option. Similarly, you can enable the ATM withdrawal option.
That's it your ATM card is now ready to use for global usage. You can use your card for online International payments and ATM withdrawal.
Enable International Usage for Canara Debit card using Net banking
Login to Canara Internet banking.
Now click on Cards – International Usage – Enable/Disable International Debit card. Select your card and confirm your request.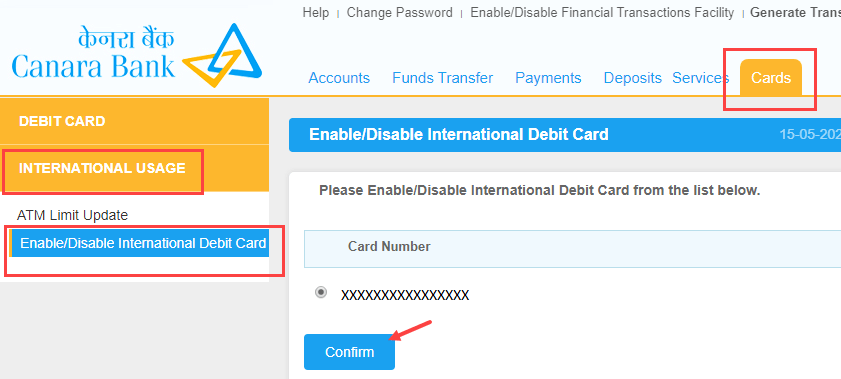 So this is how you can enable/disable international transactions for your Canara Bank ATM/Debit card.
Frequently Asked Questions
(1) Why I'm unable to activate International usage for my Canara ATM card?
Ans: If your Debit card is for domestic usage only then you can not enable International transactions. You need to apply for the International Debit card from the bank.
(2) Why did my International transaction decline?
Ans: It means your Debit card is not supported international transactions.
(3) Which Canara Bank ATM Debit cards are best for International usage?
Ans: You can apply for Canara Bank Platinum VISA Debit card. Please visit your branch for further inquiry.
(4) I have a Rupay ATM card, Can I use it for International payments?
Ans: Not sure, but Rupay Debit card support only domestic transactions.