Do you want to use your UCO Bank ATM/Debit card for international payments? If yes, then first you need to activate International transactions for your UCO Bank Debit card and then you can use it globally.
Selected UCO Bank Debit cards support international transactions, if your Debit card also supports global usage then you can also use your Debit card for international payments.
Here we tell you, how to enable UCO Bank Debit card for international transactions online through online banking channels.
1. Activate International Usage for UCO Debit Card using Mobile Banking
If your UCO Mobile Banking is active on your phone then you can login to mobile banking and activate your UCO Debit card for global transactions.
Open the UCO Mobile Banking application and login.
Now click on UCO Digi Safe section.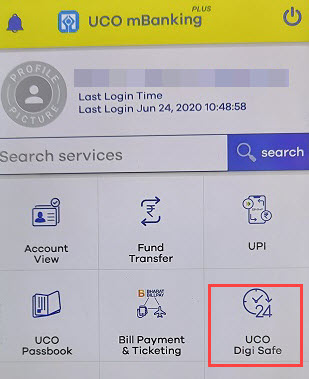 Next screen, select ATM Debit card option.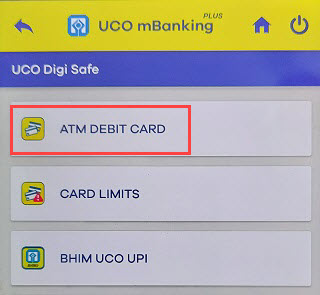 And here, Enable International options like ATM, POS & e-commerce, and submit. (For online international payment, you need to enable the "e-commerce" option).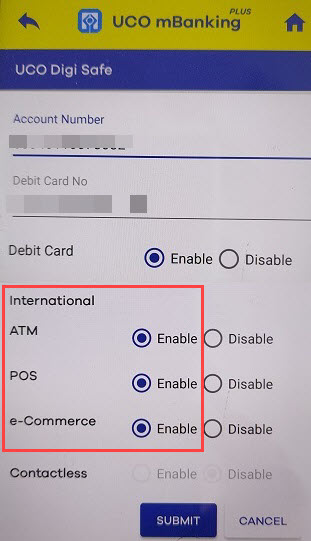 Done! you can now use your UCO Bank ATM/Debit card for international transactions.
2. Activate International payments for UCO Debit Card through UCO Secure application
You can also use UCO Secure Debit card management application to enable your Debit card for global usage. Download and install this application on your phone and activate it.
Open UCO Secure application and login.
Now tap and open ATM Debit Card option.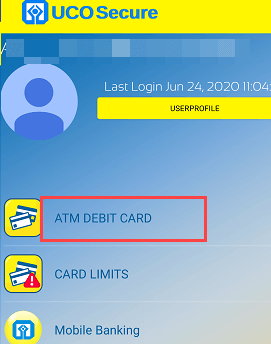 And next screen, select your account number and debit card & enable the international option and submit. So this is how UCO bank customers can enable international usage for their Debit card.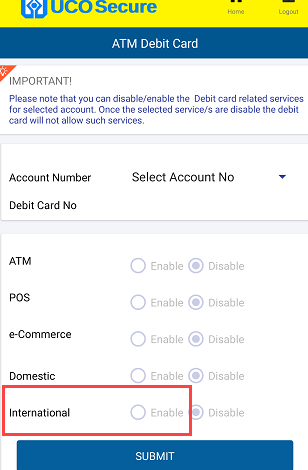 Frequently Asked Questions
(1) I have a rupay UCO Debit card, can I use it for International payments?
Ans: Not sure, but the Rupay Debit card works only for domestic usage.
(2) Which UCO Debit cards support International transactions?
Ans: VISA signature, VISA gold, and VISA platinum international debit card support global usage. Please visit here to know debit card details.