Do you want to receive a monthly statement for your SBI account on your registered email ID? If yes, then you can subscribe SBI free email statement facility and get your account statement every month on your registered email address.
By enabling SBI monthly e-statement facility, you will be able to check your account transaction details every month without printing your physical passbook.
You just need to register your email ID with your SBI account which you can do online by login in to net banking. After registering an email ID with your account, you can register for the SBI email statement facility.
Register SBI Free monthly Email Statement facility (E-statement)
You can activate the SBI E-statement facility through Mobile Banking and Net banking. Just log in to any online banking channel and register yourself.
Register SBI Email Statement through Mobile Banking
Login to SBI YONO Lite Mobile Banking and tap on My Accounts.
Next screen tap on e-statement subscription.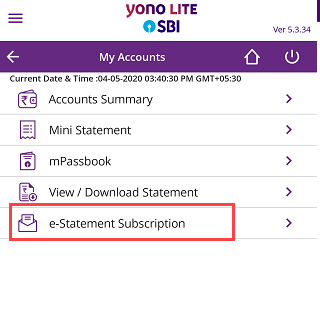 Now select your account number and e-statement frequency (monthly) and submit.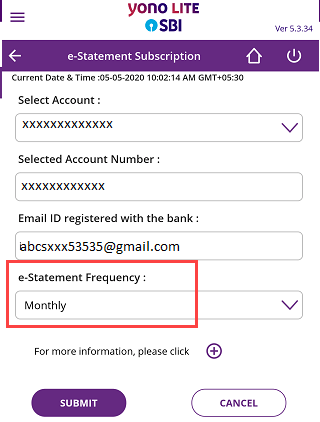 That's it, Statement will be sent to your registered Email ID registered with Bank. E-statement will be sent on the 1st day of the month. The statement will not be generated if there is no transaction performed during the selected cycle.
Subscribe SBI Monthly Email Statement Through Net Banking
You can also login to SBI Internet banking to activate a monthly e-statement facility for your account.
Login to SBI Internet Banking.
Now click on My Accounts & Profile and select e-statement.
Next screen select your account number, select monthly in frequency, and select date in day indicator, and submit.
Day Indicator is the date of the month on which e-Statement will be sent. For example, if you have selected frequency "M-Monthly" Cycle and Day Indicator selected as 6 and 10, the first e-Statement will be sent on the 10th Day of June. The next statement will be sent on the 10th Day of September and likewise.
So this is how SBI customers can subscribe to free email statement (E-statement) facility and receive an account statement every month on a registered email ID.