Kotak Mahindra Bank customers can now open FD (Fixed Deposit) Account online through Mobile Banking Application instantly without a bank visit.
Kotak Mahindra Bank is a private-sector Bank and has a network of 1,369 branches across 689 locations and 2,163 ATMs in the country. You can open Kotak 811 zero balance saving account online.
Kotak Bank gives you a higher interest rate on FD up to 7.20%. You can check the latest interest rate here
If you are planning to invest your money in FD then Kotak Bank is the best choice to get the high-interest rate.
See how Kotak Bank customers can open FD accounts online through Mobile Banking.
Open Kotak Bank Fixed Deposit account online
Kotak Mahindra Bank Mobile Banking Application is available for Android, iOS, and Windows Phone. You can install and activate this application on your phone to avail online banking services.
See step by step process and open an FD account online:-
1: Login to Kotak Mobile Banking Application.
2: After login, tap and open Banking tab, and here select Open Fixed Deposit.
3: On the next screen, select Debit account (your existing saving account), In Deposit type you can select Payout monthly, Quarterly or on maturity), enter the deposit amount, enter tenure, select FD instruction and choose your account for credit interest and maturity amount. Finally, tap on Open Fixed Deposit Account.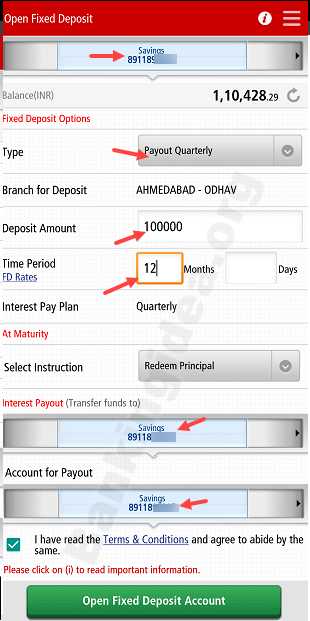 4: Next screen, confirm your details and tap on Confirm.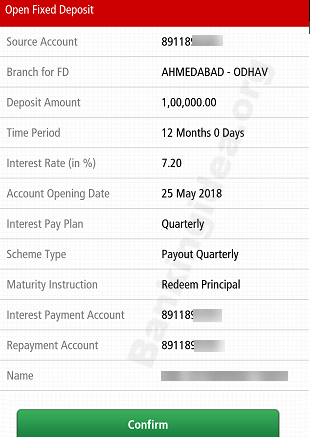 Done! your FD account opened successfully. You will receive FD advice on your registered email ID. You can check your FD account through Mobile Banking and net banking.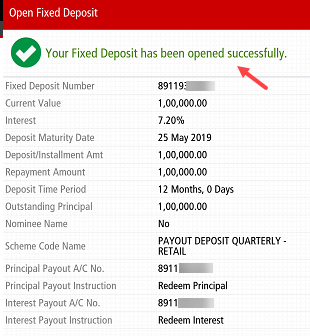 So this is how you can instantly open an FD account on Kotak Mahindra Bank.