ICICI Bank has launched an online saving account opening facility, so now you can apply for a saving account online without visiting the branch. You just need your Aadhaar card and Pan card number ready to open your account online.
You can apply online ICICI Regular saving account (Insta Save account) with Rs.10,000 MAB balance. You will get all benefits like Debit card, Cheque book, net banking, and mobile banking facility.
Eligibility
This account is available for Resident Individuals, who are above 18 years and up to 60 years of age.
Charges
The minimum monthly average balance is Rs.10,000
Debit Card Charges: ₹ 150 p.a.
Transactions at ICICI Bank ATMs: 5 free, thereafter Rs.20/ transaction.
Transactions at Non-ICICI Bank ATMs: 3 free (Metro), 5 free (Non-Metro), thereafter Rs.20/ transaction.
Value Added SMS alert facility: ₹ 15 per quarter
Apply ICICI Saving Account Online
You can open the ICICI Saving account directly from your phone. Before you begin the account opening process, please keep ready your Aadhaar Card and Pan Card.
Step 1: Install ICICI official mobile banking application.
Step 2: Now open the application and tap on I want to Open a New Account (Insta Save account).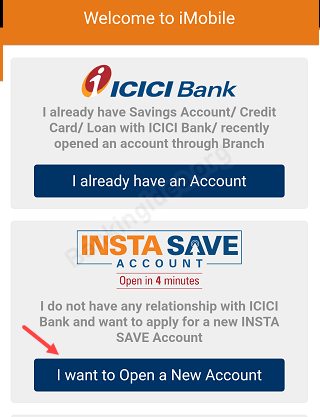 Step 3: You will be redirected to the account opening page. Choose Insta Save Account and click on Apply Now.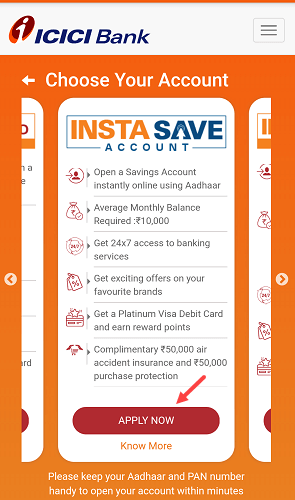 Step 4: Now enter your personal details like age, salary, occupation, marital status, salary, etc, and proceed further.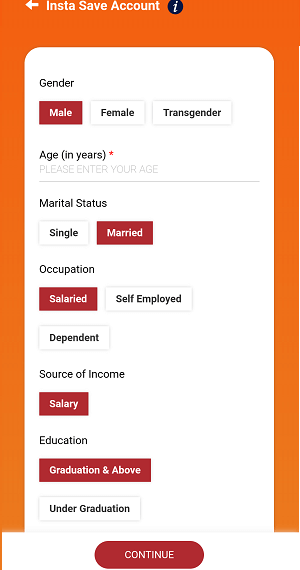 Step 5: Next screen enter your mobile number, email ID, and PAN Card number.
Step 6: Now enter your Aadhaar card number and submit.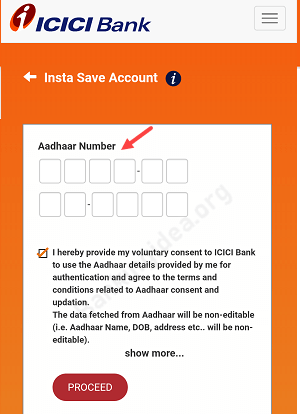 Step 7: You will receive OTP on your Aadhaar registered mobile number, please enter this OTP and verify your Aadhaar details.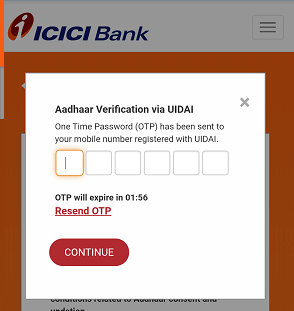 After verifying your Aadhaar details, please complete the remaining steps.
Congrats, you have successfully submitted ICICI online account opening request.
After opening your ICICI account online, you can activate ICICI Mobile and net banking services online.
Track Online Account Opening Application Status
You can track your account opening request and check your application status.
Open https://buy.icicibank.com/ and click on Track.
Enter your DOB, mobile number, and email ID Or Pan number and track your application status.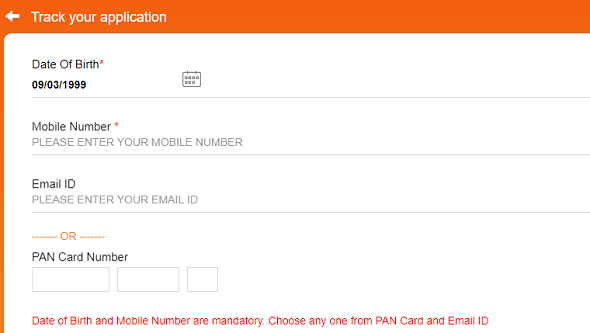 So if you wish to open Saving account in ICICI Bank then no need to visit the bank, just follow the above steps and open your account online.