Do you want to permanently block your Canara Bank ATM cum Debit card? If yes, then here we will tell you different online methods to block your Canara ATM card permanently. If your ATM card has been lost or stolen then you need to block it permanently without any delay to avoid any ATM-related fraud.
Canara bank customers can easily block their Debit card when the card is lost or stolen using online banking and SMS banking. Follow these online methods and block your ATM card permanently.
1. Block Canara Bank ATM/Debit Card through Mobile Banking
Login to Canara Mobile Banking and tap on Cards.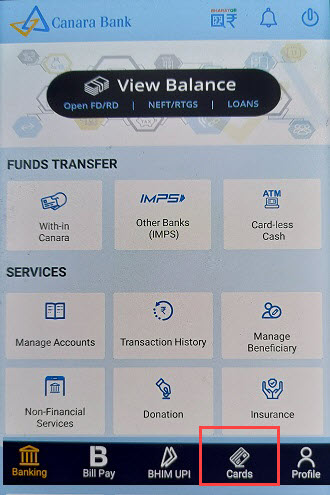 Now tap on Block and turn ON Block permanently option as you can see below screenshot.
2. Block Canara Bank ATM Card permanent through net banking
You can also login to Canara bank Internet banking to block your ATM card online. If you have net banking then follow these steps:
Login to Canara net banking.
Click on Cards – Debit Card Hot listing. Select your Debit card and click on the Hotlist button.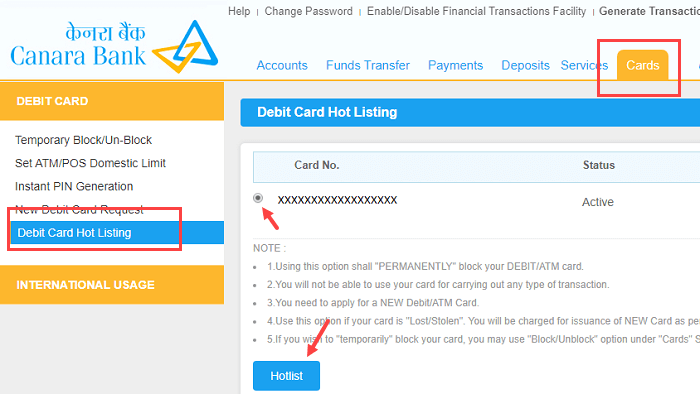 3. Permanent Block Canara Bank ATM Debit card by SMS
Type "CAN<space>HOTLISTDC<space>last 4-digits of card number" and send to 092666 23333 or  5607060 (e.g: CAN HOTLISTDC 6565)
Canara Bank customers can also call customer care to block their Debit card permanently. Please visit the official website to know customer care numbers.
Please note:
Using this option shall "PERMANENTLY" block your Canara Bank ATM card.
After blocking your ATM card, you can't use your card for any transaction. You need to apply for a NEW Debit/ATM Card.
Frequently Asked Questions
(1) My Canara Bank ATM card has been lost, how to block it?
Ans: If you have Canara Bank Mobile banking or net banking then login to any online banking channel and block your ATM card. You can also send an SMS from your registered mobile number as mentioned above to block your card.
(2) After blocking my Canara ATM card permanently, how to get a new ATM card?
Ans: You can apply for a new Debit card through net banking and get delivered to your registered address.