SBI mPassbook is a digital passbook of your account which you can view on your mobile phone. Yes, you don't need to visit your home branch to know your transaction history by printing a physical passbook.
If you have SBI Mobile Banking (SBI YONO Lite) active then you can view your mPassbook online and check account transaction history. SBI mPassbook facility is great for senior citizens and pensioners, who unable to visit the branch every month for passbook printing. They can install and activate mobile banking and view passbook online without printing physical passbook.
Here we will tell you, how to view your SBI account mPassbook on your mobile phone.
SBI mPassbook – How to View on Mobile Phone
Open SBI YONO Lite Mobile Banking application.
Now tap on My Accounts.
Next screen tap on mPassbook and tap on View mPassbook.

Now select your account number.
And next screen, you can view your digital passbook. You can synchronize 150 transactions. Tap on the synchronize button and refresh transaction history.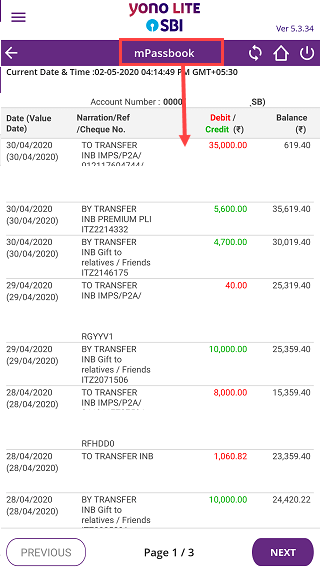 Frequently Asked Questions
(1) Can I see my SBI passbook online?
Ans: Yes, you can view your SBI account passbook in digital form. Just open a Mobile banking application to view your mpassbook online.
(2) How can I get SBI mPassbook?
Ans: SBI mPassbook is a digital passbook facility from the bank. You can check your account transaction details on your phone using the mpassbook facility. You just need to log in Mobile banking to view your mpassbook.
(3) I'm unable to visit branch for passbook printing, how to know my SBI account transaction details?
Ans: There are many online ways to know your SBI account transaction details like an online statement, monthly statement facility. And yes, SBI also offers a mPassbook facility so you can view your passbook online from your phone. Just activate SBI Mobile Banking and view your passbook online.