Now UCO Bank customers can also withdraw cash from ATMs without ATM/Debit card. Yes, the bank has launched cardless cash withdrawals for customers to get cash without inserting their ATM card.
Suppose you need urgent cash and don't have a UCO ATM card then you can use a cardless cash withdrawal facility from mobile banking and withdraw cash from any UCO ATM without using your ATM/debit card.
UCO cardless cash withdrawal facility is available on Mobile Banking, so if your mobile banking is active then you can also withdraw cash without inserting your ATM card. Please note, you can withdraw cash only from UCO Bank ATM, not other bank ATM machines.
UCO Cardless Cash Withdrawal Facility – How To Use
Suppose you need urgent INR 2,000 cash and you forgot your ATM card at home, now see how you can withdraw cash from UCO Bank ATM without an ATM card.
Open the UCO Mobile Banking application on your phone and login.
Now select the U-Cash option.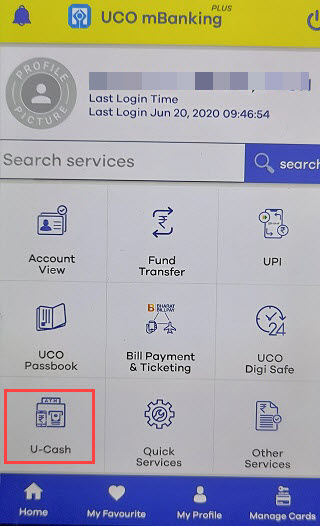 Next screen, tap on Initiate new Cash withdrawal Request.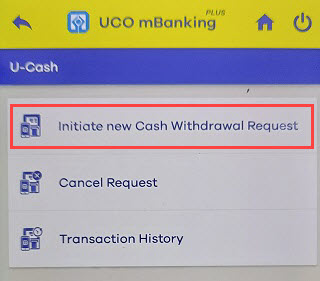 Now select your account number, enter the amount, and create CPIN. (You need to enter this CPIN during the cash withdrawal at ATM and it is valid only for 4 hours)
Next screen confirm your request and submit.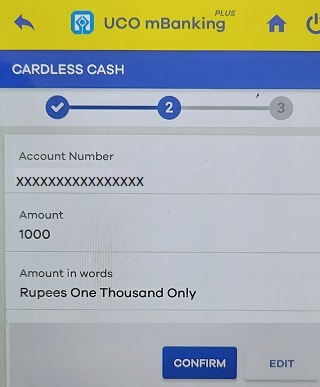 That's it, now visit your nearest UCO Bank ATM and withdraw cash using CPIN.
Frequently Asked Questions
(1) What is the UCO Cardless Cash withdrawal (UCASH) facility?
Ans: With UCO cardless cash withdrawal (UCASH) facility, you can now withdraw cash from UCO ATM without using an ATM/Debit card. You can place a request for cash withdrawal through mobile banking and withdraw cash from UCO ATM, no ATM Debit card is needed.
(2) Can I cancel this request for cash withdrawal?
Ans: Yes, you can cancel this cash withdrawal request by selecting the Cancel request option.
(3) What happens if I don't withdraw cash after placing a request?
Ans: The CPIN is valid only for 4 hours so if you don't withdraw cash within 4 hours, your request will be canceled automatically.
(4) Any limit for U-cash (cardless cash withdrawal)?
Ans: Yes, you can withdraw a maximum of INR 5000 using this facility.