ICICI WhatsApp Banking now lets you access banking services on your WhatsApp. You can access different online banking services directly on your WhatsApp. Just type and send the preferred keyword to access banking services.
With ICICI WhatsApp banking, you can:
Check your account balance
Know the last 3 transactions' history
Block or unblock your Debit card
Credit card limit check
Find the nearest ICICI ATM and branches
If you want to check your ICICI account balance on WhatsApp then yes now it is possible through ICICI WhatsApp Banking.
So how to use ICICI WhatsApp Banking? let's see:
ICICI WhatsApp Banking – How to Start
The customer just needs to save ICICI official WhatsApp banking number in the contact list and you are ready to use WhatsApp Banking.
For English Save this Number:  932495 3001 
For Hindi Save this Number: 932495 3010
Now open WhatsApp and refresh your contact lists, you can see ICICI Bank in the list.
You can now send the preferred keyword to avail of different services OR just type and send "Hi" to know all services list.
To check account balance type and send "bal"
Get the last 3 transactions details, type and send "history"
To Block your Debit card type "block' and then select our Debit card, similarly to unblock your Debit card type and send "unblock"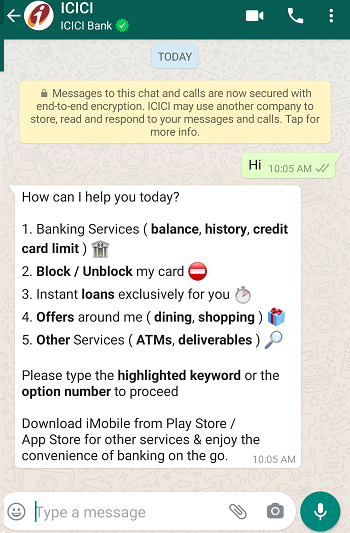 Please note: Your WhatsApp registered mobile number and ICICI bank registered mobile number should be the same. If your WhatsApp registered mobile number is different then you can not use ICICI WhatsApp banking.
Related Queries:
(1) How to check ICICI Account Balance on WhatsApp?
Ans: Now ICICI Bank customers can easily check their account balance on WhatsApp. Just save this number (9324953001) ICICI WhatsApp Banking number and send the message "bal"
(2) Why is ICICI WhatsApp Banking not working for me?
Ans: It is because your WhatsApp Mobile number is different. Make sure your ICICI Bank registered mobile number and WhatsApp mobile number are the same.
(3) ICICI WhatsApp Banking available free?
Ans: Yes, you will not be charged. It is a free service from the Bank.