Now Indian Bank customers can activate/deactivate Debit card transactions and disable particular Debit card transactions like ATM withdrawal, POS payment & Online payments. If you don't wish to use your Debit card for online payments then you can deactivate this option online so nobody can use your card details for online transactions.
Indian Bank Enable/disable Debit card transactions facility is now available on mobile banking so you can control your Debit card usage channels. You can activate/deactivate Debit card transaction usage anytime and block particular transactions for your card.
Indian Bank also offers a temporary block/unblock debit card facility, however, if you wish to block/unblock particular transactions like ATM withdrawal, POS, and online usage then follow the below steps:
Enable/Disable Indian Bank ATM/Debit Card Transactions
You can control your Indian Bank Debit card channel usage through Mobile Banking and turn OFF any particular transaction.
Open Indian Bank Mobile Banking application and login.
After login, click and open "Cards" section where you can control your Debit card usage.
And the next screen, select your account number and debit card number and proceed further.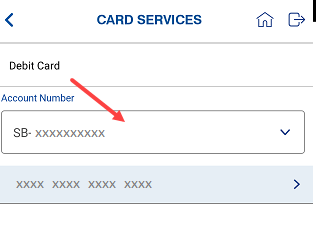 Now select the "payment channel settings" option.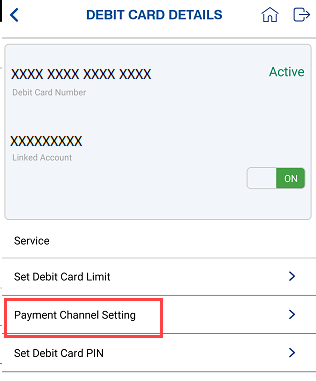 And now de-select any transaction which you want to deactivate. Just uncheck that channel usage and submit. You can activate the transaction again by selecting those channels. For example, if you wish to deactivate POS and online transactions for your Debit card then uncheck the POS and E-commerce option and submit.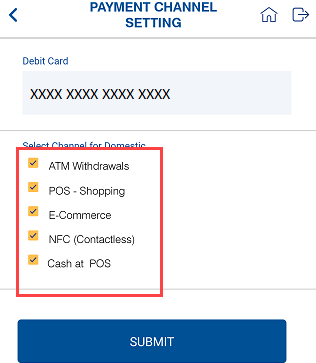 So this way, Indian Bank customers can control their Debit card usage and enable/disable particular channel transactions.
Frequently Asked Questions
(1) How to temporarily disable ATM withdrawal for my Indian Bank Debit Card?
Ans: If you wish to disable only ATM withdrawal for your Indian bank debit card then follow the above instruction. You can also temporarily block your Debit card but this will disable all transactions.
(2) Can I block/unblock Indian Bank Debit card transactions?
Ans: Yes, you can turn ON/OFF your Debit card and block all Debit card transactions. If you wish to disable particular transactions like POS, online or ATM then follow the above steps.