If you are an Indian Bank customer then you can access many online banking services from your mobile phone. Yes, the bank has launched IndPay Mobile Banking application to provide digital banking services to customers. You can install this official Mobile Banking application and activate it to access your bank account online.
With IndPay Mobile Banking, you can check your Indian Bank account balance and statement, request a new cheque book, download the statement, open FD and RD, view your passbook, and much more.
Here we will tell you the step-by-step procedure, how to activate and register for Indian Bank Mobile Banking (IndPay) on mobile phone and access online banking services.
Indian Bank Mobile Banking Activation Process
Before you start the activation process, make sure your bank registered mobile number is inserted on your phone. The application will send an SMS from your registered mobile number and verify your details.
Step 1: Install Indian Bank Mobile Banking (IndPay) from google play store and apple store and follow the below registration process.
Step 2: After installing the IndPay Mobile Banking application, open the application, enter your CIF number and submit. (You can find your CIF number on your passbook)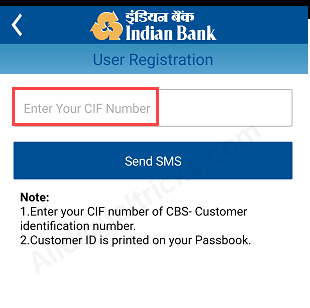 Step 3: After submitting the CIF number, the application will verify your bank registered mobile number by sending an SMS
Step 4: Next step, select an option to activate your mobile banking. If you have an ATM card then select Register through ATM card option OR net banking is active then select Register using Internet banking.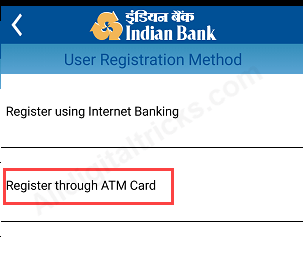 Step 5: If you have selected Register through ATM card then enter your ATM card number, ATM PIN, and expiry month & year and submit. If you have selected register through Internet banking then you need to enter the net baking user ID and login password.
Step 6: Next step, set 4-digit login MPIN. This PIN is your login PIN.
Step 7: Now set your MTPIN. This is your transaction PIN which you need to enter during any transaction process.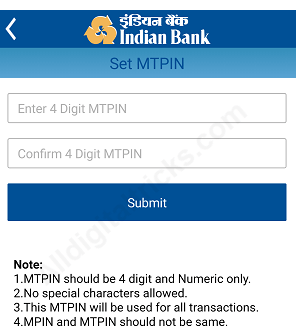 That's it. You have successfully registered for Indian Bank Mobile Banking & IndPay activated successfully. Now you can login to Mobile Banking and access many online baking services from your phone.
Frequently Asked Questions
(1) How can I login to Indian Bank mobile banking?
Ans: First you need to download and install the Indian Bank Mobile Banking application (IndPay) from Google Play Store and iOS store and then complete the activation process by following the above steps. After registration is complete, you can login to Indian Bank Mobile Banking.
(2) How to register Indian bank Mobile Banking?
Ans: Indian Bank Mobile Banking application is available for Android and iOS. You can install it from the Google Play store. You need to complete the registration process to access mobile banking. Just follow the above process.