Now you can get Instant PAN using your Aadhaar card and download your PAN card PDF copy or receive a PDF on your email address. PAN allotment based on Aadhaar is free of cost. PAN pdf will be generated and issued to the applicant.
If you don't have a PAN card then no need to submit an offline request, you can now use your Aadhaar card and get your PAN instantly online. This facility is available on the Income-tax official website.
After getting your PAN number, you can also request a physical copy of your PAN card and get delivered to your home via courier.
How to Apply Instant PAN using Aadhaar
The process is paperless and takes just 10 minutes. Before you apply, please keep these things ready:
Your Aadhaar card
Aadhaar registered mobile number
Step 1: Open the Income tax of India official website and click on Instant PAN through Aadhaar as you can see below screenshot.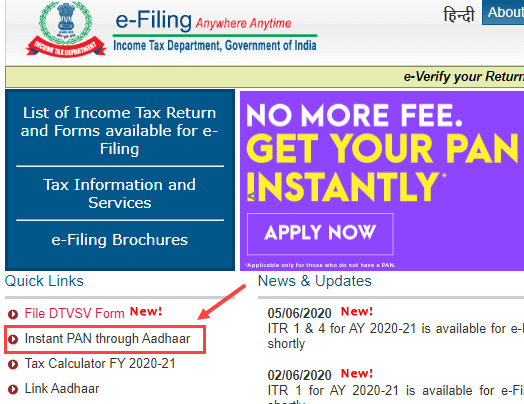 Step 2: Next screen, click on Get New PAN button.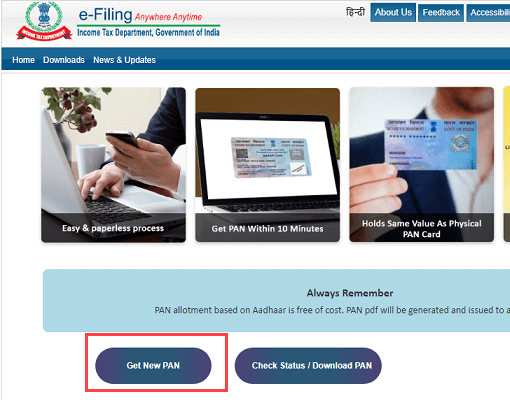 Step 3: Now enter your 12-digit Aadhaar number and click on Generate Aadhaar OTP.
Step 4: You will receive OTP on your Aadhaar card registered mobile number. Enter received OTP and click on validate OTP.
Step 5: After validating OTP, you can see your Aadhaar details (your name, birthdate, address, etc) confirm these details and submit your request.
Congratulations, you have successfully applied for an instant e-PAN card.
How To Check Instant e-Pan card status & Download PAN CARD PDF
After successfully applying for a PAN card, you can check your application status and know whether your application is accepted or rejected. If your application is accepted then PAN will be allotted to you and you can download PAN CARD PDF and also receive PAN card PDF on your email address registered with your Aadhaar.
To check your Instant Pan card status, click on Check Status/Download PAN.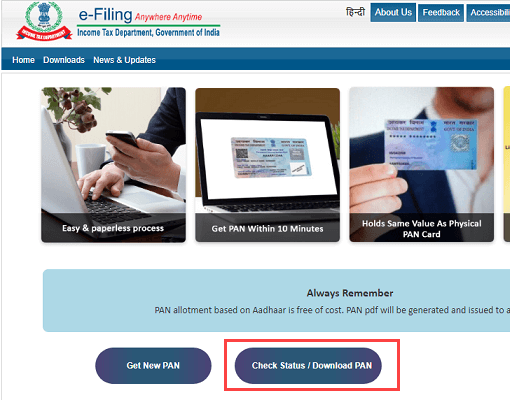 Next screen, enter your Aadhaar card number and submit.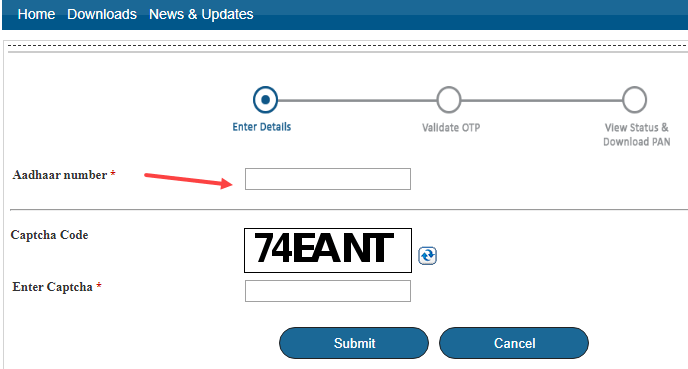 You will receive OTP on your Aadhaar registered mobile number, enter this OTP, and verify your Aadhaar card.
And next screen you can check the status of an application- whether PAN is allotted or not. If PAN is allotted, click on the download link to get a copy of the PAN pdf.
How To Get a Physical Pan Card
If a PAN has been allotted, you can get a printed physical PAN card by submitting PAN on the links below-
https://www.onlineservices.nsdl.com/paam/ReprintEPan.html
This facility can be availed by those PAN holders whose latest PAN application was processed through NSDL e-Gov or who have obtained PAN using the 'Instant e-PAN' facility on the e-filling portal of ITD.
PAN card will be dispatched to the communication address as per the latest details available with the Income Tax Department.