Your Kotak Mahindra Bank Account CRN Number (customer relationship number) is an individual identifier of the customer in Kotak Mahindra Bank. When you open an account in Kotak Bank, you will get your account number and CRN number. Your account number & CRN number are different.
When you register for Kotak Mahindra Bank mobile banking and net banking, you need to enter your CRN number first. It is also your net banking User ID.
If you don't know your Kotak Bank account CRN number then don't worry, here we will tell you different ways to find your Kotak account CRN number easily.
Check your Kotak Account CRN Number by SMS
All you need to do is send an SMS from your Kotak registered mobile number and you will get your CRN number by SMS.
Type "CRN" and send it to 9971056767
After sending this SMS, you will receive your CRN via SMS.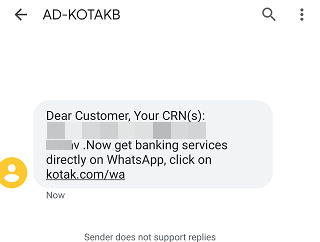 Find your Kotak CRN Number on your Debit Card
You can also find your customer relationship number on your Kotak Debit card. It is printed under your name on your Debit/Credit Card.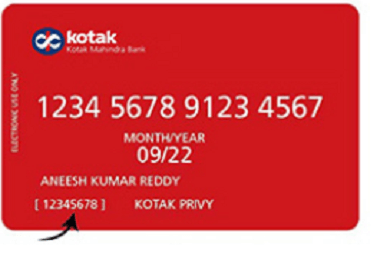 Check your CRN number on E-Statement
If you are getting your e-statement on a registered email ID then you can also find your CRN number on your email statement PDF file.
Just open the e-statement PDF file and check the account details.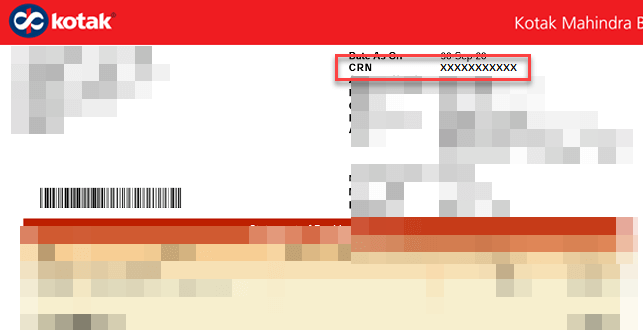 Find your CRN number on Cheque Book
You can also check your customer relationship number on your Cheque book front page where your account details are printed.
Just open Cheque Book front page, here you will find (Ref. no. 1828XXXXX) this is your customer relationship number.
Frequently Asked Questions
(1) How can I get my CRN number Kotak?
Ans: CRN full form is customer relationship number. You can check it by sending an SMS, on your Cheque Book, and on your Debit card. Please follow the above steps.
(2) Can I change my CRN number?
Ans: No you can not change it.