Forgot Kotak Mahindra Bank Debit Card ATM PIN or want to change your ATM PIN? You can change or reset your Kotak Debit card ATM PIN online using mobile banking and net banking. If you don't have an online banking facility then still you can generate a new ATM PIN online for your Kotak Mahindra Bank Debit Card.
Here we will tell you 4 easy online methods to generate Kotak Bank ATM PIN instantly.
1. Generate Kotak ATM PIN using Mobile banking
Login to the Kotak Mobile banking application.
Tap and open the Service Request section and select the Debit Card option.
Next screen, tap on Regenerate PIN.
Now set 6-digits ATM PIN and submit.
2. Kotak Bank ATM PIN generation through Net Banking
Login to Kotak Mahindra Bank Internet Banking.
After login, click on the Debit Card – Instant Regeneration of PIN. Select your Debit card number and set a new ATM PIN.
Please note:
The PIN can be generated for active cards only
If the card is temporarily blocked, then you will need to unblock the card to initiate the regeneration of the PIN
The PIN cannot be regenerated for Debit Cards that are permanently blocked
3. Instantly Generate Kotak ATM PIN Without Net Banking & Mobile Banking
If you don't have Kotak net banking and mobile banking facility then don't worry, you can still generate an ATM PIN online.
Open the Kotak Mahindra Bank Service Request page and click on Generate PIN for all your Kotak Cards.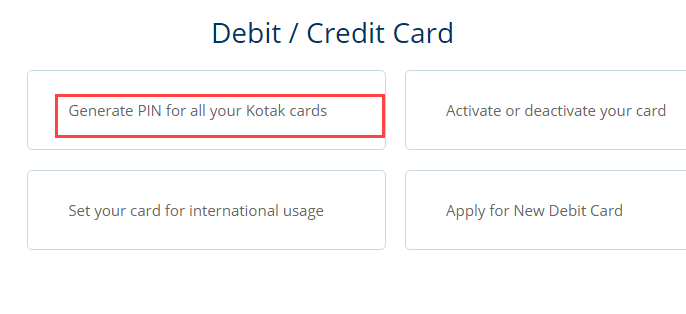 Now select the Debit card option and choose Card type VISA/Master card or Rupay.
Finally enter your Debit card 16-digits number, expiry date, and CVV and set a new ATM PIN.
4. Request Physical Kotak Bank ATM PIN Online
You can also request a physical ATM PIN online through net banking to receive an ATM PIN via courier.
Click and open the Debit Card section and click on Request for Physical PIN. Now select your Debit card number, confirm your address and submit your request.
Please note:
Physical ATM PIN charges will be debited from your account.
The ATM PIN will be mailed to your mailing address as per our records within 8 working days.
FAQs
(1) How to Generate Kotak Debit Card ATM PIN without net banking and mobile banking?
Ans: You can visit Kotak Service Request page where you can generate a new ATM PIN by entering your Debit card details.
(2) How to get Kotak ATM PIN instantly?
Ans: Use Kotak Mobile Banking and Net Banking to get ATM PIN instantly.
(3) Why I'm unable to set a new ATM PIN for my Kotak Debit card?
Ans: If your Debit card is temporarily blocked then you can not set a new ATM PIN. Please unblock your Debit card first then try again.