Now Kotak Mahindra Bank customers can view their Debit card details online. Yes, you can check your Kotak Debit Card number, expiry date, and CVV online through net banking.
For some reason, if you don't have a physical Debit card during the online payment then you can use this facility and view your Debit card details to complete the payment.
You can use this online Debit Card view facility when your physical Debit Card is unavailable and you have to pay online.
Check Kotak Debit Card Number, Expiry Date, and CVV Online
Step 1: Login to Kotak Mahindra Bank internet banking (https://netbanking.kotak.com/knb2/)
Step 2: Now click on "Cards" and select the 'Debit Card" option.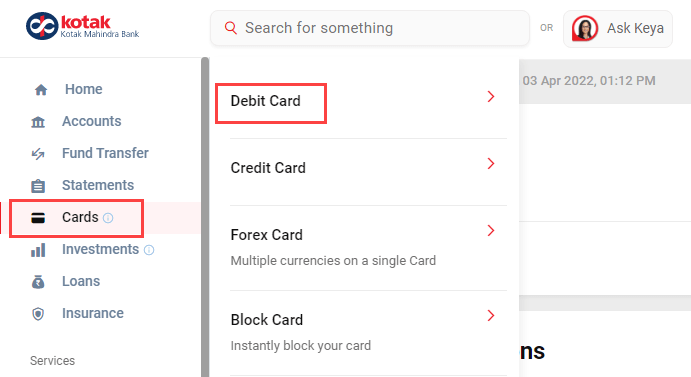 Step 3: You can see your Debit Card section here. Now click on the "Show Card Details" button as you can see in the below image.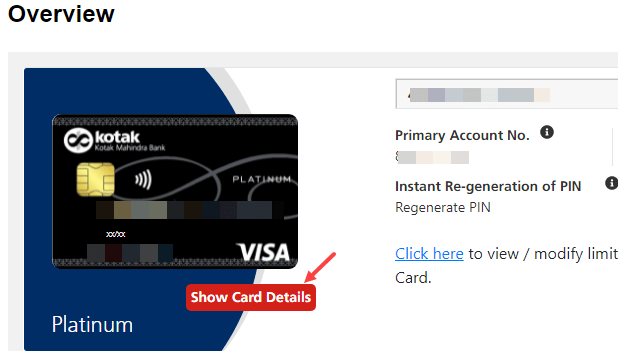 Step 4: Enter OTP received on your registered mobile number and email ID and submit.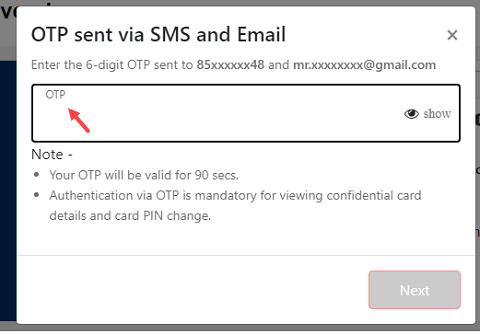 Step 5: Now you can view your Debit Card details like 16-digit card number, expiry date, and CVV. Click on the "Show CVV" button to view CVV on the backside of the card.
When you log out from net banking or change to another option, your Debit Card details will be hidden automatically.
So this way Kotak Mahindra Bank customers can view ATM/Debit Card details online. If you don't have a physical Debit card and want to pay online, you can view your card details online and make your payment.
FAQs
Q.1: How to check my Kotak Debit Card online?
Ans: You can use Kotak net banking to check your Debit Card details online. Please follow the above steps and view your card number, CVV, and expiry month & year online.
Q.2: How to Pay online without Kotak Physical Debit Card?
Ans: If your Debit Card details are not saved on a particular website or app, then you can view your Kotak Debit card details online and pay online without a physical Debit card.