Kotak Bank EMI on the Debit card facility is now available for selected customers. You can check your eligibility by sending an SMS and if you are eligible for EMI on Kotak Debit card facility then you can purchase any product online/offline on EMI using your Kotak Debit card.
Kotak EMI on the Debit card facility required no documentation and you can purchase any product on EMI if your Debit card is eligible for it. You can buy online any products above Rs.8000.
How to check Kotak Debit card EMI Eligibility?
To check your eligibility for Kotak Debit card EMI, you just need to send an SMS. You can also check your eligibility on Flipkart or Amazon.
Type "CDL<space>PAN number" and send to 5676788 (SMS charges apply)
After sending an SMS, you will receive an SMS from the bank.
If you are eligible for Kotak Debit Card  EMI facility then you can see your amount limit in SMS.
You can also check your eligibility on Amazon or Flipkart, (Make sure you are registered with Flipkart or amazon with the same bank registered mobile number)
Just open the Product page or payment page and select EMI options. Here you can see Kotak Mahindra Debit card EMI. It means you can buy products on EMI using Kotak Debit card.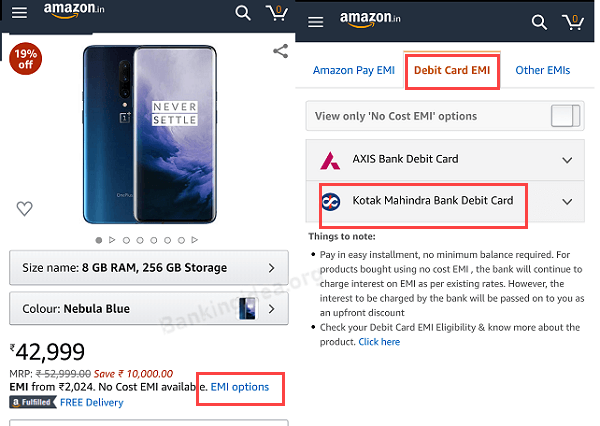 How To Buy a product using Kotak Debit Card EMI?
You just need to open the product page and proceed to the payment page. Select EMI option and add your Debit card number, expiry date, and CVV.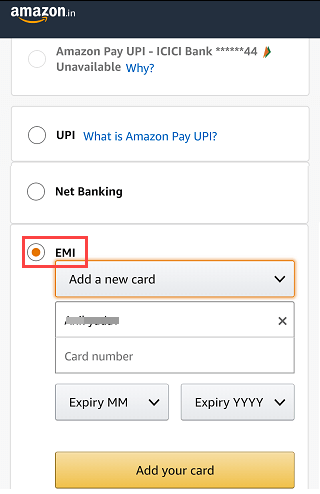 Next screen you need to choose EMI tenure (3, 6, 12 months) and complete your purchase.
After successful payment, you will receive a confirmation SMS from the Bank.
How to Pay EMI?
Your EMI will be debited from your saving account on the selected date automatically. You don't need to pay manually. Please keep enough balance in your saving/current account to avoid any late payment fee charges.
So this is how Kotak Mahindra Bank customers can use EMI on the Debit card facility to buy products online/offline. You can read more about this on Kotak official website.