Want to open the Axis Bank Saving account? If yes then you don't need to visit the bank to open your account. You can open your saving account in Axis Bank online and also complete the full KYC using video KYC. Even you can fund your account online.
Axis Bank has just launched a digital saving account opening facility so customers can open their bank accounts online at home using video KYC. All you need to do is keep ready your Pan card, Aadhaar card, and Aadhaar registered mobile number. Better net connectivity for video KYC.
So here is the step-by-step process of how to open an Axis bank saving account online using Video KYC.
Open Axis Bank Saving Account With Video KYC
Before you start let me tell you, get ready with PAN and Aadhaar number, then provide basic details to quickly set up your account. Once done, make payment for initial funding and finally complete your KYC via Video Call with one of our Agents. Initial Funding Rs.15,000. A monthly Average balance of Rs.10,000 is required.
Step 1: Visit the Axis Bank Saving accounts page and here you will find the "Apply Online/Open Online" option, click on it. https://www.axisbank.com/retail/accounts/savings-account
Step 2: Next screen, choose account type Easy Access OR Prime and proceed further. (Both accounts come with full features incusing Debit card, net banking, and mobile baing facility)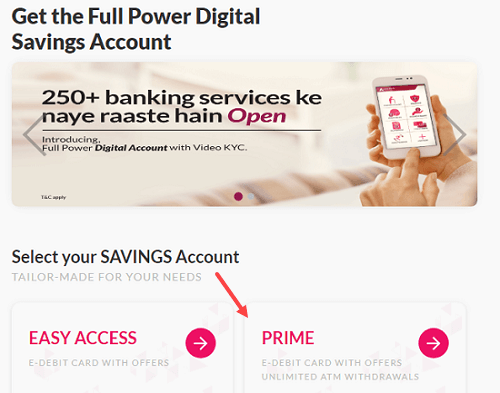 Step 3: Now enter your Pan card number, and Aadhaar card number, and enter your Aadhaar card registered mobile number. (This mobile number will be registered with your account) & click on proceed.
Step 4: Next screen, enter OTP received on your Aadhaar registered mobile number and click on confirm OTP.
Step 5: After confirming your Aadhaar card details, you need to add the initial fund to your account. The initial funding amount is Rs. 15,000 which you need to add to your account. You can add this amount using another bank account net banking, debit card, or UPI.
Step 6: In the last step, you need to complete a video KYC. During the video call, when the customer is showing their PAN Card, their Officially Valid Document (OVD), or any other document, the Verification Officer is also allowed to take appropriate screenshots to capture the same. The entire process takes no more than three or four steps.
Video KYC Process:-
After verifying your Pan and Aadhaar and adding the initial fund to your account, you will be redirected to the video KYC page.
On the Video-KYC page, you can check agent availability & if the agent is available you will get connected to a Video Call agent via chat
Once you confirm that you are ready for the video call over chat, the agent initiates the Video call. Ensure that you allow microphone and camera access while accepting the video call
Answer the few queries the agent will ask you for verification and profiling
The agent captures your live photo as a screenshot.
You will be asked to hold up your PAN card to your device camera and the agent will capture a screenshot of the same.
If the above-mentioned steps are successful your video KYC will be completed successfully.
Congratulations, your Axis Saving account opened successfully. On the successful completion of your Video KYC, you will be taken to a page displaying your Account number and Virtual Debit card details, including the option to set the PIN for your Virtual Debit Card. The same will also be sent to you via email in a password-protected document.