Do you want to open an SBI MOD account online for your savings account? Then here we will tell you how to open SBI Multi-option deposit account online through net banking and mobile banking.
What is SBI MOD?
SBI Multi Option Deposit Scheme (MODS) are Term Deposits linked to the Savings or Current Account (individual). Unlike normal Term Deposits which are fully liquidated anytime you need funds; you can withdraw from a MODS account in multiples of 1000 as per your fund need.
The balance amount in your MODS account will continue to earn the Term Deposit rates applicable at the time of the initial deposit.
SBI MOD Benefits:
Withdraw Money from MOD account through ATM
Transfer money from the MOD account to your account
Same FD Interest rate applicable for MOD account
Can be opened online, close anytime
Tenure: Minimum tenor is 1 year and the maximum is 5 years
Minimum Term Deposit Amount for MOD Creation is 10,000, maximum no limit
Open SBI MOD account using Net Banking
If you have SBI net banking facility then you can directly open your MOD account online by logging in to Internet Banking.
Open SBI Internet Banking login page and login: https://retail.onlinesbi.com/retail/login.htm
After login, click and open the Fixed Deposit section. Here you can see e-TDR/e-STDR (FD), click on it.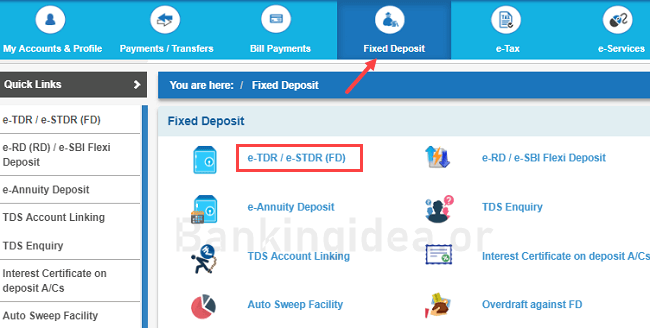 Next page, select e-TDR/e-STDR (MOD) Multi Option Deposit and proceed.

Now select your Debit Account number, enter MOD amount, select the senior citizen option if you are a senior citizen, select deposit options like TDR or STDR, enter tenure for your MOD, and submit.
In the last step, confirm your MOD opening request.
Congrats, your SBI MOD account opened successfully, you can view your MOD account in the Fixed Deposit section.
Open SBI MOD account through Mobile Banking
You can also open SBI MOD through SBI Anywhere mobile banking application.
Login to the SBI Mobile Banking application.
After successful login, tap and open e-Deposits and next screen select Open Multi Option Deposit.
On the next screen, select your Debit account number, enter the amount, select TDR or STDR deposit option, select tenure, and submit.
That's it, your  MOD account is now created successfully. You can view it in e-Deposits section.
To see the present interest rates, please click on the link View interest rate.
Functionality for creating MOD is currently available only for Savings Account.
e-TDR/e-STDR (MOD) can be opened for 1 year to 5 years.
e-TDR/e-STDR (MOD) can be opened only if the mode of operation is 'Single' or 'Either or Survivor' or 'Any A/c Hold or Surv' or 'Power of Attorney' or 'Letter Of Authority' or 'Sole Minor-Above 10 Year' or 'Nat Guard Of Minor' or 'Former or Survivor' and 'Latter or Survivor'.
For e-TDR MOD, the interest will be credited to the savings account selected above
FAQ
Q.1 What are TDR and STDR in the MOD Deposit option?
If you selected the TDR option then you will receive an interest rate on intervals (monthly/Quarterly) and if you selected STDR then interest will be paid on maturity.
Q.2 Can I Withdraw Money from the MOD account at ATM?
Yes, you can withdraw money from your MOD account through ATM.
Q.3 Can I transfer money back to my savings account?
Yes, you can break your MOD account and transfer money to the savings account.
Q.4 Can I close my SBI MOD account online?
Yes, you can close your MOD account online.
I hope you now understand how to open an SBI MOD account online. You can select this deposit scheme instead of a normal FD.