If you want to open a PPF account in Bank of Baroda then you don't need to visit your bank, you can now open the PPF account in Bank of Baroda online through mobile banking. Bank of Baroda PPF account opening facility is now available on mobile banking. If you are a BOB customer then you can login to mobile banking and apply for the PPF account online.
Normally, you need to visit a bank or post office to apply a Public provident fund account by filling up the physical form. But now in Bank of Baroda, this facility is available online and you can open your public provident fund account online (paperless).
How To Open PPF Account in Bank of Baroda Online
If you are already Bank of Baroda customer then follow the below online process and open your Public Provident Fund account online.
Login to BOB Mobile Banking application.
Now tap and open the Insurance & Investment section.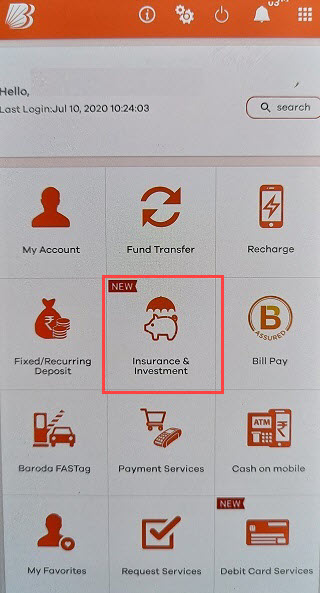 Here you can see Open PPF Account option, click on it.
Now select your account number, confirm your personal details, enter your Father's name or spouse's name, you can also add a nominee. Now click on proceed.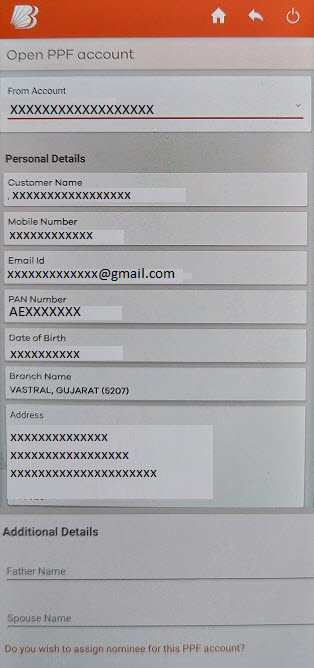 Next screen confirm your request and submit.
That's it you have successfully submitted the PPF account opening request.
How To Pay Installments/Add money in PPF?
The first installment amount will be debited from your bank account. You can add/transfer money to your PPF account through mobile banking and net banking.
Key Benefits of PPF
Any individual can open a PPF account through a selected Bank or post office
You can only open a single PPF account so if you have already then you can't open a second account.
You can not open a Joint account in this scheme.
Minimum Rs.500/- in a financial year, Maximum Rs. 1,50,000/- in multiple of Rs. 50/- may be made in an account in a year.
The deposit in the account may be made in the account in one lump sum or in installments.
No income tax on interest income
If you want to transfer your PPF account to another branch or post office then yes you can.
Loan facility against PPF A/c available after the expiry of 1 year from the end of the year in which the initial subscription was made.
Partial Withdrawal up to 50% any time after the expiry of 5 years from the end of the year in which the account was opened.
Nomination facility available
Extension of account is possible for a further block of 5 years
Tax rebate under Sec 80 C