Do you want to know whether your Punjab National Bank account is KYC-compliant or not? As per RBI rules, all PNB account holders must comply with KYC guidelines and their accounts should be KYC compliant. If your account KYC is pending then the bank will temporarily deactivate your account and you can not perform any transaction. You need to complete the KYC process to reactivate your account.
Punjab National Bank customers can now check their KYC status online and know whether their account KYC is pending or not. Follow the below steps and check your KYC status online.
Check Punjab National Bank Account KYC Status Online
Step 1: Visit Punjab National Bank (PNB) net banking retail login page (https://netbanking.netpnb.com/) and login to your account using your user Id and login password.
Step 2: After successfully login to your PNB net banking account, move your mouse cursor to "Personal Settings" and select the "Check KYC Status" option as you can see in the below screenshot.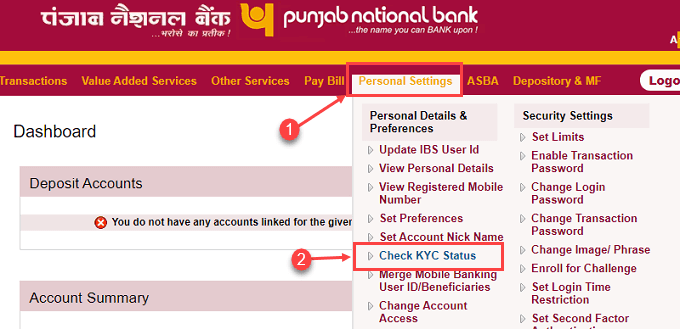 Step 3: And on the next screen you can see your account KYC status. If your KYC is not required then you can see "KYC Complied" in the status, it means your account is KYC compiled, and no need to submit KYC again.

If your account is not compliant with KYC then you need to visit your home branch with KYC documents like your Aadhaar card, Pan card, and passport-size photo and submit the KYC form with these documents copy.
FAQ
Q.1: How to check the PNB account KYC status online?
Ans: If you have a net banking facility then you can login to your net banking account and check your KYC status. We have discussed step by step process in this post.
Q.2: Can I submit my PNB account KYC online?
Ans: No, you need to visit your branch to complete the KYC process.