Do you want to register or change your email ID with your UCO Bank account? If yes, then you can log in to Mobile Banking and change or register your email address with your UCO Bank account.
When you register your email ID with the UCO Bank account, you will be able to receive an account statement on your registered email ID. You will also receive account-related alerts on this email ID.
So here we will tell you, how to update your UCO Bank email ID online if your email ID is not linked with your bank account then follow the below steps and register it online.
Register/Change Email ID With UCO Bank Account Online
Open the UCO Mobile Banking application on your phone and log in.
Now click on My profile section as you can see in the below screenshot.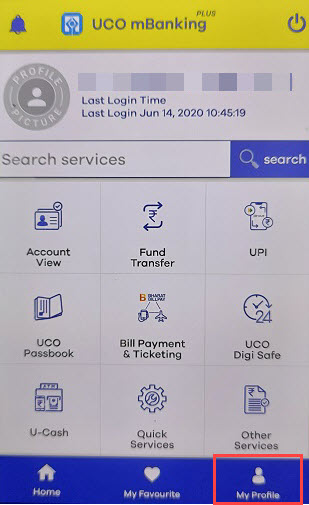 Next screen, click on the Update Email ID option.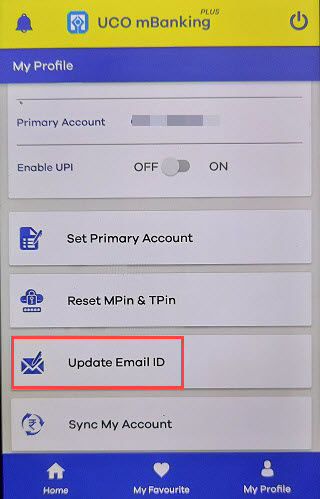 And finally, enter your email ID and click on confirm.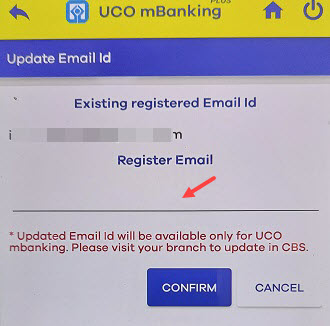 By following this method, you can change your UCO bank registered email ID at any time. Now you can get your account statement on this registered email ID. Just open Mobile Baning and click on Service request – account statement.
Frequently Asked Questions
(1) How can I change my email id in UCO Bank?
Ans: If your UCO Mobile Banking is active then you can log in to mobile banking and change your email ID in the profile section.
(2) How to register my email ID with UCO bank account to receive an email statement?
Ans: If your email ID is not registered with your UCO bank account then open Mobile banking and link your email ID. After registering an email ID, you can now receive an account statement on your email address.
(3) My Mobile banking is not active, how to update my email ID?
Ans: You can activate mobile banking online. Just install UCO Mobile Banking plus application and complete the activation process.