Dear customers, Allahabad Bank is now an Indian bank officially so please Indian Bank website to activate net banking if you are already registered with Allahabad bank net banking then use the same login credentials to login.
Allahabad Net Banking facility allows you to access your bank account online. Internet Banking facility is free and you can activate online without visiting branch.
With Allahabad Bank Net Banking you can view account balance and statements, block/unblock debit card, transfer money through IMPS and NEFT, request a new Cheque Book and access many other online services.
Here is step by step guide, how to activate Allahabad Net Banking online instantly and manage bank account online.
Allahabad Net Banking activation Process (Step by Step)
You can register for Allahabad net banking from Allahabad Mobile Banking. So you first need to activate mobile Banking facility first. Read: Allahabad Mobile Banking activation process 
Now follow below process:-
Step  1: Open Allahabad Mobile Banking Application and log in.
Step 2: After login, tap on More option. Now in e-Services tap on Internet Banking registration.
Step 3: Next screen, enter the Account number, your Debit card last 6-digit and expiry date & submit.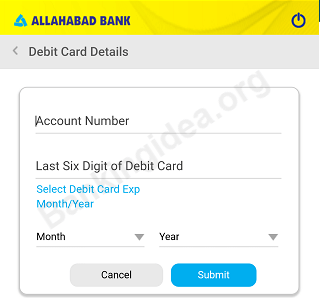 Step 4: Next screen, you can see your User ID, this your login User ID which you can change later. Now set your login password. Select (√) "Do you want transaction facility in the Account entered", now tap on submit.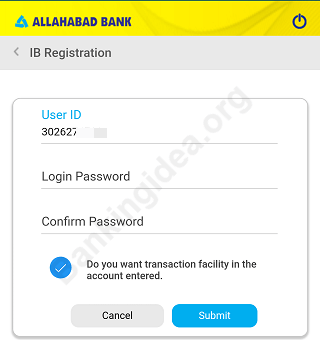 That's it your net banking is now activated.
Now you need to log in using current User ID and login password and set new own preferred User ID & login password again.
Step 5: Visit Allahabad net banking login page. Enter User ID and current login password. Visit: https://www.allbankonline.in/
Step 6: Now set your new login password and your own User ID. Now submit.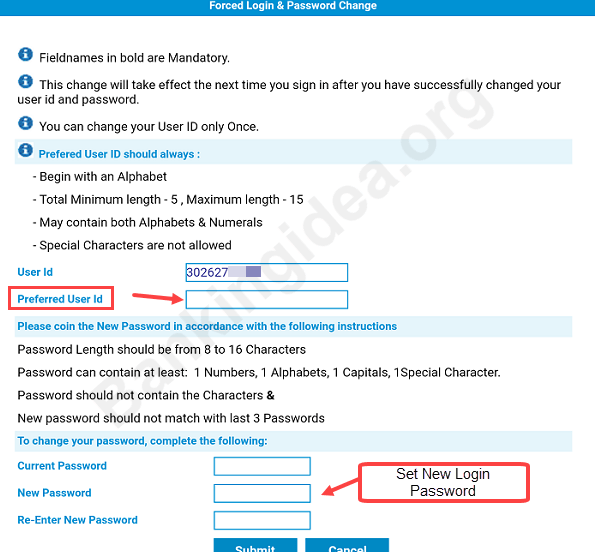 For online transactions, you need to set the transaction password. This is the second password. To set your transaction password, login net banking, and select Set transition password option. Read here:
So this is how to register for Allahabad net banking facility online without visiting branch.