If you are a Kotak Mahindra Bank Customer and want to request new Cheque book then no need to visit the bank. You can now order new Cheque book online and through other channels without bank visit.
Kotak Mahindra Bank is one of the largest private sector bank and gives you best banking services. You can open a regular saving account and also bank offers zero balance account where you don't need to maintain the minimum balance.
See how Kotak Bank customers can request for new Cheque book online by following these 4 methods.
Request New Cheque Book Online in Kotak Bank (5 Methods)
1# Through Net Banking
If you have kotak Bank net banking facility then follow the process and apply for Cheque Book:-
1: Login to Kotak Net Banking Account, visit the login page and enter CRN number and password: https://www.kotak.com/
2: After login, click on Banking option and then select Service Requests » New Service request.
In New Service request click on New Cheque Book.
3: In next screen select your Account number and select total Cheque leaves (You can choose 25 or 50 leaves). Now submit your request.
2# Apply on Mobile banking
Kotak Mobile Banking is one of the best way to manage your account on phone. You can request Cheque Book easily through mobile banking.
1: Login to Kotak Mobile Banking, open Application and enter your MPIN to login.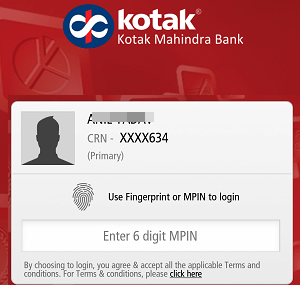 2: After login, tap on Service request tab and then select Cheque requests as you can see below screenshot.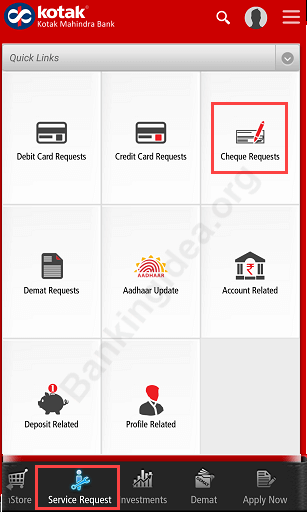 3: And finally select your Account number and select total Cheque Leaves and tap on Request Cheque Book. That's it.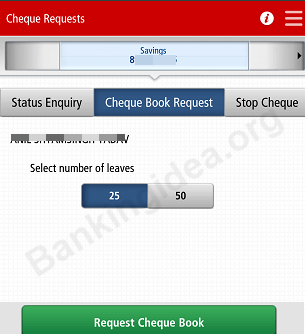 3# Use Online Request portal
If you don't have Kotak Net banking and Mobile banking then not to worry. You can still request new Cheque Book online through Kotak Request portal.
1: Visit Kotak Cheque Book Request portal: https://www.kotak.com/en/transaction-services/cheque-book-request
2: Now enter your registered mobile number and Date of Birth. You can enter CRN number if don't know DOB. Now click Send OTP.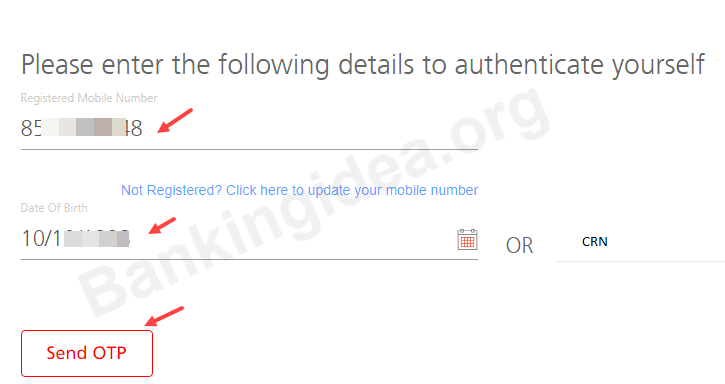 3: You will receive OTP on your registered mobile number, enter this OTP and click on confirm.
4: Now you can see your Account details, select your Account.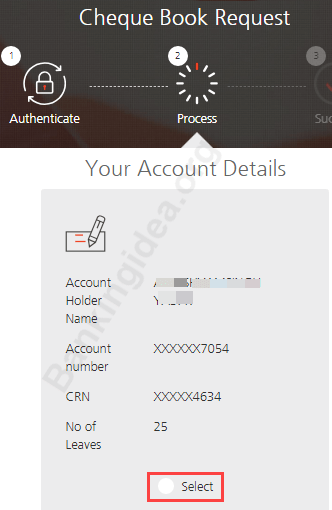 5: And in the last step, click on confirm to submit your request.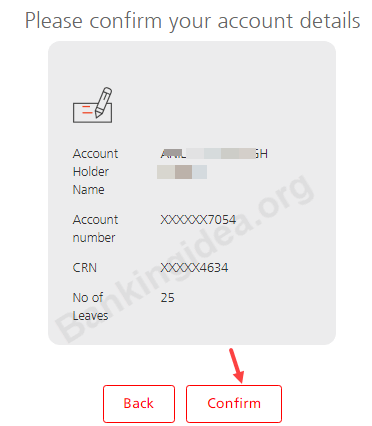 4# Send SMS
You can send an SMS from your registered mobile number and request new Cheque Book.
Type "CHQBOOK<space>Last 4 digits of Account Number" and Send to 9971056767 or 5676788 (SMS charges apply)
E.g: CHQBOOK 3131
5# Phone Banking
This is last option to apply new Cheque Book through Phone Banking. To use Phone banking you need to enter your ATM card details to verify your account.
Dial Kotak Phone Banking number: 1860-266-2666
You need to enter ATM card details
Now select Cheque Book option or talk to executive and submit your request.
So by following these 5 methods, Kotak Mahindra Bank customers can request or apply new Cheque Book online.