SBI customers can request a new Cheque Book online through net banking, mobile banking, SMS, and through IVR, you don't need to visit the bank to apply new Cheque Book.
Today we will tell you 4 methods to order a new SBI Cheque Book online through different channels.
Before we start let me tell you SBI Cheque Book Charges:-
The first 25 cheque leaves free in a financial year. Thereafter, 10 Leaf Cheque Book at ₹30+GST, 25 Leaf Cheque Book at ₹75+GST, and 50 Leaf Cheque Book at ₹150+GST
Ok now see 4 online Ways to apply a new cheque Book online.
Request SBI Cheque Book Online (4 Methods)
Here are 4 different channels where you can order a new cheque book without visiting the branch.
1# SBI Net Banking
You can activate net banking online using a debit card, if you have a net banking facility already then see how to order cheque book online:-
1: First login to your SBI net banking account. visit the login page and enter User ID and login password – https://retail.onlinesbi.com/
2: After login, click on Request & Enquiries tab. Here you can see "Cheque Book Request" option, click on it.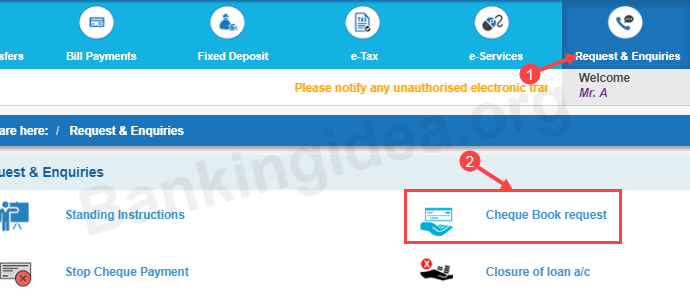 3: On the next screen, select your Account number, enter the number of Cheque leaves and click on submit.
4: And finally, select your delivery address. You can select your current registered address or enter the new address. Now click on submit. That's it.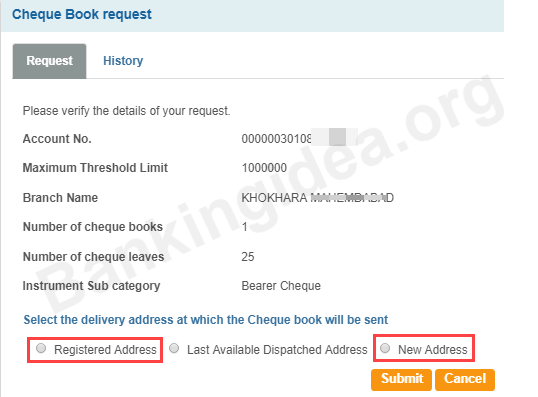 2# SBI Mobile Banking
SBI Mobile Banking Application (SBI Anywhere personal) available for Android, iOS, and Windows phones. You can install it and activate it online.
See how to request a new cheque book through SBI anywhere mobile banking:-
1: Login to SBI Anywhere application using net banking credentials.
2: After login, tap on Requests tab as you can see in the below image.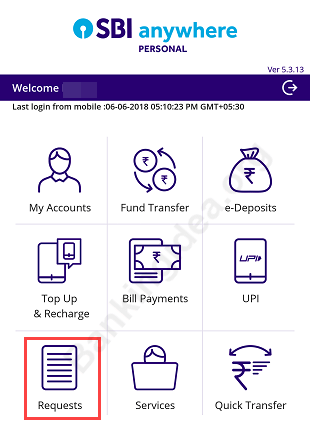 3: Next screen tap on Cheque Book option and then select Cheque Book Request option.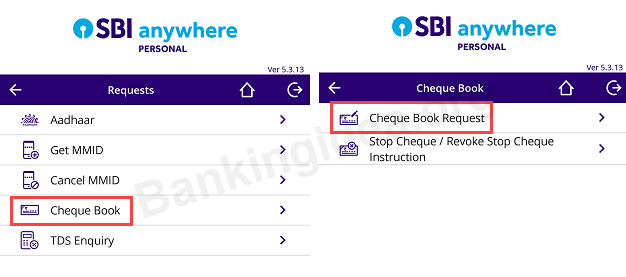 4: And the last step, select your Account number, enter the number of Cheque book (e.g.1) and the number of Cheque leaves (20,30,50) and submit your request.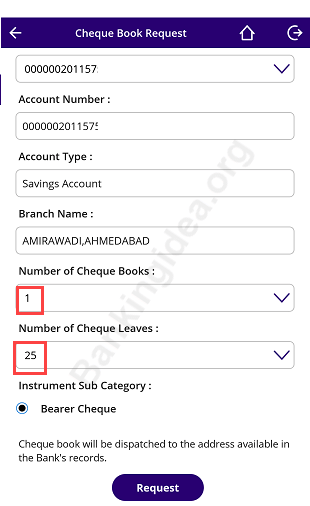 3# SBI YONO
SBI YONO is a new digital banking application from SBI. You can also manage your bank account and access various online services. You can also request a new cheque book here.
You can register on SBI YONO using a net banking User ID and password.
1: Login to SBI YONO.
2: After login, open the menu option and tap on Service Request.
3: On the next screen, tap on Cheque Related Services and then tap on Request Cheque Book option.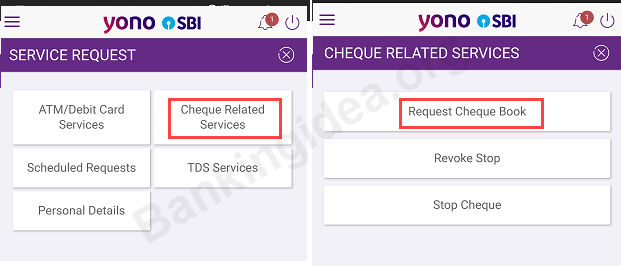 4: Next screen select your Account number and enter total Cheque leaves and submit.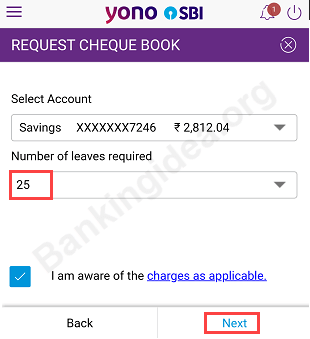 5: And last, select your registered Address to enter a new Address. Finally, submit your request.
4# Call center (Phone Banking)
And the last option is Call to phone banking numbers. You just need to give them your account details. You can also activate a phone banking facility to access many services through call center numbers (IVR).
Call SBI Customer care Toll-free number: 1800112211 OR 18004253800
For account verification, you need to enter ATM card details.
Follow the instructions and select Cheque book option.
So by following these 4 methods, SBI customers can Request a new cheque book online without the visiting branch.