Now SBI customers can lock/unlock Debit card transactions (online & offline)? If you want to lock your all Debit card-related transactions like ATM withdrawal, online transactions, and POS transactions then you can do it now through SBI Mobile banking and SBI Quick banking.
You can unlock all transactions whenever you want to use your ATM/Debit card. If you have lost your ATM card at home then instead of blocking your Debit card permanently, you can lock your ATM card transactions and when you get back your card, you can unblock transactions.
How To Lock/Unlock SBI ATM Debit Card Transactions
SBI customers can use ATM card ON/OFF feature through Mobile Banking (SBI YONO lite) and SBI Quick (SMS based banking).
1. ON/OFF SBI ATM Transactions using Mobile Banking
Open SBI Mobile Banking application (SBI YONO Lite) and log in.
Now tap on the Services section.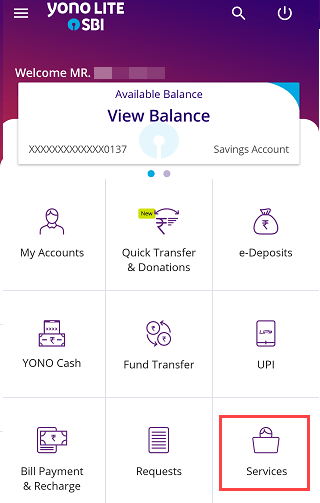 Next screen open Manage Debit Card option. (This option lets you manage your Debit card)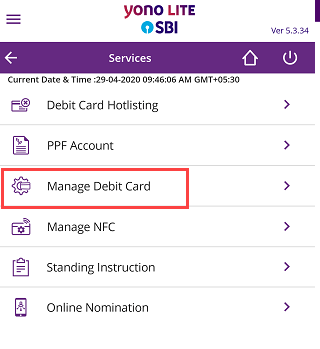 Now select your account number and Debit card. You can now turn OFF all ATM, e-commerce, and POS transactions to disable all ATM card transactions.
After turning off all transactions, you can not use your Debit card anywhere. If you want to use your card then you need to turn ON these transactions. You can also ON/OFF a particular transaction.
2. Disable SBI ATM Debit Card Transaction by SMS
You can also use SBI Quick SMS based banking to disable SBI ATM/Debit card transactions.
To disable ATM transactions for your SBI ATM card, you just need to send an SMS from your registered mobile number. Just install the SBI Quick Banking application and send SMS automatically.
Open SBI Quick Banking application.
Open ATM cum Debit card section and select ATM Card Switch On/Off.
Now enter your ATM/Debit card last 4-digits and select OFF option for all transactions like ATM, POS, e-commerce, and submit. (SMS charges apply)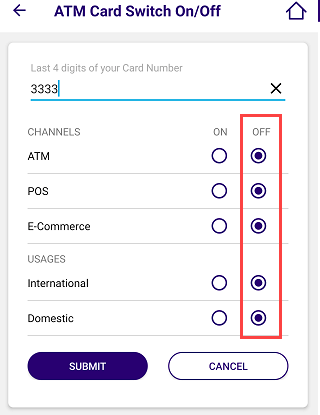 That's it your SBI ATM card is now switched off. You can turn ON anytime by selecting ON option or by login to mobile banking.
Frequently Asked Questions
(1) How to temporarily deactivate my SBI ATM Debit card?
Ans: You can temporarily deactivate your SBI ATM Debit card and disable all transactions using SBI Mobile banking and SBI Quick banking. Please follow the above steps.
(2) How to ON/OFF SBI ATM/Debit Card?
Ans: Now SBI customers can also ON/OFF Debit card and lock all Debit card related transactions. This facility is now available through SBI YONO Lite and SBI Quick banking.